How Foundation Medicine is Expanding Access to Genomic Testing for Cancer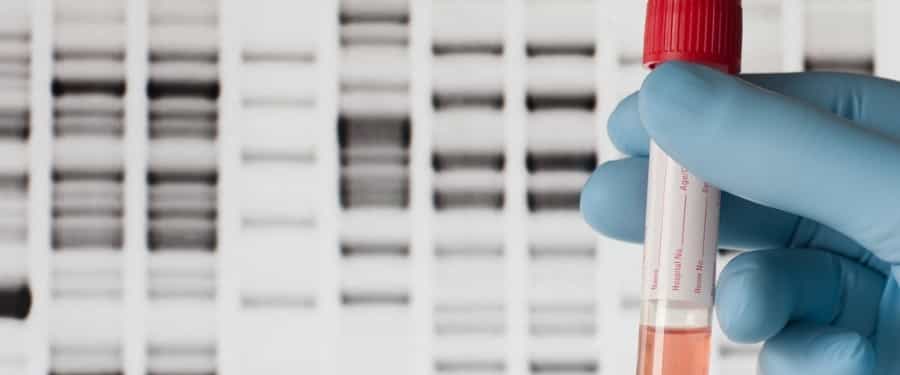 Foundation Medicine is a company that provides genomic testing for cancer to help doctors match patients to the most appropriate treatments and trials. In November, they received FDA approval and a preliminary Medicare national coverage determination for the FoundationOne CDx test. This is the first FDA-approved broad companion diagnostic test across multiple solid tumor cancers.
We caught up with David Marshak, the Patient Advocacy Manager at Foundation Medicine, to discuss what this approval means for patients today, and for the future of genomic testing and treatments for cancer.
Can you tell us a bit about Foundation Medicine and FoundationOne?
Foundation Medicine first launched its FoundationOne test in 2012 as a comprehensive genomic profiling test using NGS to test a couple hundred genes at once. Over time, the number of genes has expanded. The idea is to sequence many genes at the same time, regardless of cancer type, in order to cast the net as wide as possible. This wide net means that if there is a genomic alteration that is driving a cancer, it can be identified and the most appropriate treatment or trial can be selected.
Since that time, we've added a couple new offerings, such as testing for hematologic cancers and a liquid biopsy test called FoundationACT. FoundationACT analyzes pieces of DNA from a solid tumor that are circulating in the blood, and while it has a more limited set of genes than a tissue test, it is a good option for finding actionable treatment information in patients that do not have enough tumor tissue for testing.
Our most recent news is the FDA approval of our companion diagnostic test FoundationOne CDx, which tests 324 genes total, along with biomarkers relevant to immunotherapy. This comprehensive test is an evolution of FoundationOne, and importantly, it contains several companion diagnostics. What that means is that some treatments are FDA-approved for use specifically when the patient has a certain mutation and a certain cancer type, and these mutations can be identified by the FoundationOne CDx test. This streamlines the path to treatments because testing is required to get the treatment, and this can be done here in a single test. FoundationOne CDx has companion diagnostics initially for 17 therapies across five cancer types: non-small cell lung cancer, colorectal cancer, melanoma, ovarian cancer, and breast cancer. And even if there is not a treatment associated with a companion diagnostic, the test is broad profile, so it can still identify treatments and clinical trials where there is evidence of potential benefit. FoundationOne CDx will be commercially available in the near future.
Why should patients get their tumors tested?
Traditionally, patients have been treated with techniques like chemotherapy and radiation. These are generalized, and this approach can be effective, but they also target healthy cells and can be very hard on the body.
But we now know that each patient's cancer is driven by a unique set of genomic mutations, and finding these mutations helps to determine which treatments or trials have the greatest chance of success. In recent years, more precision medicine techniques have evolved – these are specific therapies that target particular mutations in genes. For immunotherapies, there are also biomarkers like microsatellite instability (MSI) and tumor mutational burden (TMB) that can predict potential success. So by having a genomic profiling test, patients can find out if they have gene mutations or biomarkers that are actionable. The idea is to identify the treatment that can be best-suited for a patient based on the unique makeup of their cancer.
How can patients get their tumors tested?
If a patient is interested in Foundation Medicine testing, they can go to our website to learn more, then talk to their oncologist about having it done, and whether there are any specific time constraints related to current treatment. The test would then be ordered by their oncologist. If a testing sample is needed, we liaise directly with the pathology lab to obtain that. If a patient would rather do a liquid biopsy, or has a hematological cancer, we only need a blood sample.
Our process involves extracting DNA from the cancer cells and sequencing that DNA to see what mutations are present. This allows us to identify targeted therapies, immunotherapies, and clinical trials that might be useful to the patients, as well as what treatments a patient might have resistance to. We then send this information back to the oncologist to discuss next steps with the patient.
Is this testing covered by insurance?
This process is often covered by insurance, but not always, so patients are encouraged to get in touch with us to find out more. I encourage patients to fill out our financial assistance application, so that they can find out what level of assistance they might be eligible for and their potential out-of-pocket expense.
Can you talk about what the preliminary Medicare national coverage determination (NCD) means for FoundationOne CDx testing?
If finalized, this would mean that Medicare patients would have this testing covered when certain requirements are met. The proposed coverage determination would expand coverage more broadly, to include patients with any type of cancer where there is a companion diagnostic. And even beyond those types of cancer, there's a possibility for patients with other types of cancer to be covered as well if they enroll in a prospective registry.
Are there particular issues at play with the Medicare coverage?
We're currently in the Public Comment period for this coverage determination before it is finalized, and advocacy groups have been commenting. The proposed coverage determination is not just for FoundationOne CDx but would apply to all NGS tests. The patient advocacy groups are very supportive of the Centers for Medicare & Medicaid Services (CMS) addressing a way for more patients to be covered for NGS testing. They recognize that this can increase access for many more patients to get the testing and find out about personalized treatment options. The patient groups have had some suggestions on the NCD – generally they want this testing coverage to be even more inclusive. They're also interested in an easier path for getting coverage beyond tests and cancer types that already have companion diagnostic indications. Some would like to see more recognition in the coverage that treatments tied to certain mutations can be relevant across cancer types. Patient groups are also interested in coverage for more than one test in a patient's lifetime.
CMS is open to public comment until January 17, so I urge anyone who wants to share their thoughts before then to do so here. Just click the orange "Comment" button to contribute.
What is your hope for the future of genomic testing?
Just within the last few years there has been a huge acceleration in availability of testing and in adoption by oncologists, especially among community oncologists. This testing is accessible now where it wasn't before – but still, just 10% of advanced cancer patients who are eligible for treatment are getting multi-gene NGS testing. There are a lot more patients who could be benefitting.
So, my hope is to continue to accelerate in a positive direction, with more and more patients getting tested, and through that, accessing more targeted treatments, immunotherapies, and clinical trials. On the clinical trial front, trials are so important – participation is what pushes these treatments forward and gets them approved, and there are more and more treatments in the pipeline.
A broad companion diagnostic test like FoundationOne CDx being approved by the FDA and the preliminary Medicare national coverage determination are both great steps forward. Looking down the road, I hope it's a snowball. The next big step in making this available, assuming that Medicare coverage is finalized, is having private insurance companies covering this on a much wider scale.
Any closing thoughts?
I would just encourage everyone to be engaged. If you know about this testing or have experience with it, talk about it with other patients. If you are finding out about it for the first time, talk to your oncologist. And of course, if you have a moment before January 17 and would like to, please comment on the proposed Medicare coverage determination so CMS can hear your voice.
You can learn more about Foundation Medicine at www.foundationmedicine.com. And if you'd like to find a trial today, start searching below.