How to Find New Asthma Drug Trials

Around 25 million people live with asthma in the United States – 8% of the population. More than a third of adults with asthma miss work because of symptoms in a given year. It's clear that people with asthma whose symptoms aren't well controlled on their current medications have a need for new options.
Currently, there are 326 clinical trials for asthma looking for volunteers around the country, including for new asthma drug trials. They're all listed on ClinicalTrials.gov, but because the website was built more for researchers than for patients, it can be difficult to navigate for patients looking to take part.
Besides visiting ClinicalTrials.gov directly, interested patients can also visit health nonprofit websites or Antidote to find clinical trial search tools that are designed for patients instead. With these tools, you can answer a few questions about your condition and how far you're willing to travel for a trial, and receive a personalized list of trials for which you may qualify.
Clinical trials have different goals. Some are researching new treatments, while others are testing to make sure a generic treatment is equivalent to an already-approved treatment. Others research behavior changes, such as adjustments to exercise or diet.
If you're looking specifically for new asthma drug trials, there are a few key words to look for in trial descriptions. We'll look at an example trial result from Antidote's search result to help break down the trial listing structure.
Example trial listing: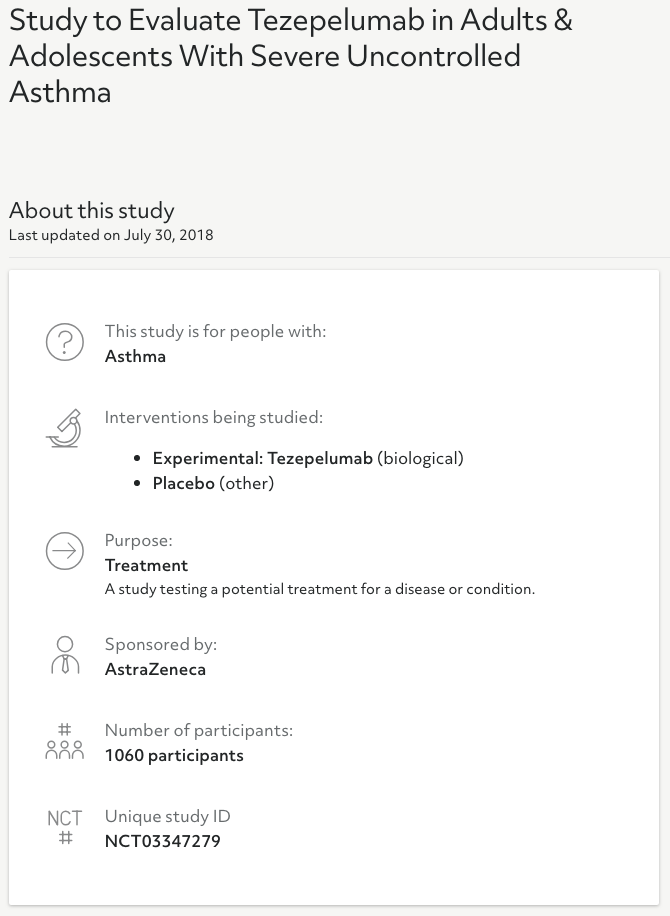 Interventions being studied: This section lets you know what treatment is being studied. An "intervention" can be a medication, a medical device, or a behavior change, such as diet or exercise.
Purpose: In this section, you'll see the goal of the trial. The purpose may be a treatment for the condition. In an observational trial, participants are not assigned an intervention. Instead, participants are put into groups and observed. For example, a researcher may divide older adults into groups based on their diet and track health outcomes.
Sponsored by: This is the pharmaceutical or research company running the trial
Unique study ID: Every trial registered on ClinicalTrials.gov receives a unique study ID.
Participation requirements: Here, you'll find more information about the inclusion and exclusion criteria for the trial. If you don't qualify for this trial, try looking back at your search results. Every trial has different criteria, so if you don't qualify for one, other options might work for you.
Ready to start searching for an asthma trial in your area? Consider these featured trials below, or start searching by clicking "Match Me."
Bad asthma symptoms? Researchers in your area are looking for volunteers for an asthma clinical trial. See if I qualify.
Does asthma slow your child down? A clinical trial could help. See if my child qualifies.