Patient Power: A Journalist's Approach to Empowering Cancer Patients and Caregivers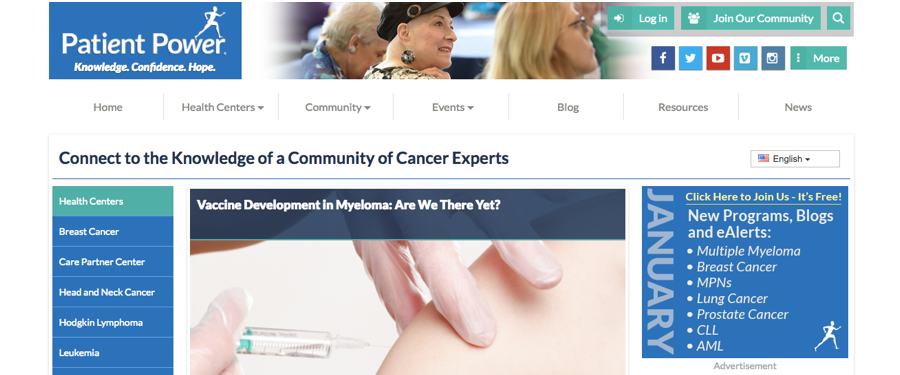 Medical journalist Andrew Schorr took his professional skills to a new level when he became a patient himself. Together with his wife, Esther, Andrew founded Patient Power, an online channel dedicated to empowering cancer patients and caregivers through information to help people return to, or maintain, good health.
When he was diagnosed with CLL, Andrew recognized the need to give patients and family members information so they can take charge of their own care. That's why today, the Patient Power team operates like a newsroom: staff members attend medical conferences, interview experts, and publish complicated health information in a way that is easily understood by the general public.
And the public approves. Patient Power and its complementary online community, The Cancer Connection, together reach more than 150,000 cancer patients and their loved ones each month.
In this video, Andrew shares the latest news on what is current on the Patient Power site and what's up next. Here are the highlights:
Find the latest news and breakthroughs on the site's health centers. Members receive tailored content, specific to their condition.
The Patient Power site is full of educational resources for patients and caregivers, such as interviews with experts, conference coverage, and articles about new treatment breakthroughs. Check out Clinical Trials MythBuster videos for important information that's also entertaining! There's a lot to take in here so if you're short on time, take a quick tour of the site and it's resources (skip to 3:35 in the video).
As a participant in multiple clinical trials, Andrew has first-hand experience with medical research studies and is a big proponent of patients considering research studies, especially precision medicine trials, as a treatment option. The Antidote Match clinical trials search tool is featured throughout the Patient Power site to help interested patients connect with a relevant medical research study.
Ready to learn more about the resources Antidote's Connect partners offer? Get in touch below.