Top Alzheimer's Voices for 2014
Here at TrialReach, one of our goals is to honor health advocates and highlight those blogs and websites that are working hard to increase visibility for various health conditions. In May, we selected the Top HIV Voices of 2014, and last month, Top Diabetes Voices.
This month we searched for the best blogs and websites for our Top Alzheimer's Voices of 2014. Alzheimer's disease affects an increasing number of people worldwide, with a new diagnosis happening every 67 seconds (in the US alone). There is currently no cure, and an even more worrying fact is that the vast majority of clinical trials fail. As a result, participation in research is critical to finding a cure. The efforts of the following advocates in raising awareness are therefore more important than ever before. Thank you!
"Top Alzheimer's Voices for 2014"
The following blogs and digital influencers all share the interest in documenting the journey of how Alzheimer's and Dementia affects those in our communities and offer tips and advice on how the best ways to sustain a good quality of life for patients, families and friends.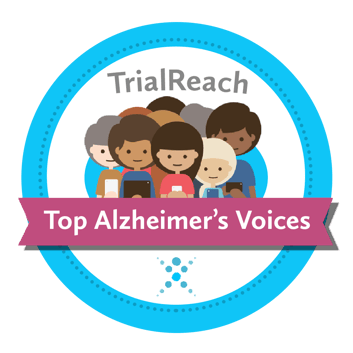 Mom, Me and Alzheimer's Blog - This blog has many different types of posts -- the older ones give tips on helping your loved one living with Alzheimer's and the more current posts share the experiences of the writer's loss of her loved one. Very inspirational!
Had A Dad - My author's father's 1253-day journey through Alzheimer's Disease (AD) and my feelings about it. Now my aunt appears to have dementia, so this is her chronicle as well.
Lewy Body Dementia - Tales from my eventful and ongoing journey as a Generation X caregiver for my father and as an advocate for Lewy Body Dementia caregivers.
Blog by Elder Care at Home - This blog focuses on the needs of older adults, caregivers, and family members living with the diagnosis of Alzheimer's disease, dementia or other cognitive impairments.
Caregiving, Mothering Mother and More - A blog about the guilt, frustrations, humor and sweet times that come with caregiving with a focus on Parkinson's and Alzheimer's.
Living in the Shadow of Alzheimer's - This blog is about life with my husband who was diagnosed with Alzheimer's and Frontal Lobe Dementia in 2008.
My Demented Mom - My name is Kathy Ritchie and my mom is demented. She was diagnosed with frontotemporal dementia in 2010. She has lost so many memories, words and all of her freedom. Still she's a happy, loving human being…………. who doesn't even know my name.
I am an Alzheimer's Caregiver - My name is Bob DeMarco, I am an Alzheimer's Caregiver. My mother Dorothy lived with Alzheimer's Disease. We lived our lives one day at a time. IAAAC is a companion site of the Alzheimer's Reading Room.
Dealing with Alzheimer's Blog - I was diagnosed with Early On Set Alzheimer's when I was 46 years old. I am now 54 and working in Advocacy to help fight this disease. I speak on a local and national level about dealing with Alzheimer's while living it. Hopefully, my perspective can and will help others.
Stranger in Our House - Lori shares her honest journey with her spouse's condition. Heartfelt.
Dementia Diaries: A Journey with Dementia - I began this blog, shortly after my mom's diagnosis, as a means of therapy to express how I was feeling and what we were experiencing. Eventually, I opened it up to close friends and family members.
Alzheimer's Speaks - Alzheimer's Speaks was created. To bring voice back to the disease in many formats and fashions: while encouraging, assisting, and engaging those in need.
Early Onset - Early onset dementia before age 65. Live life to the fullest and find humor in everyday life.
The Alzheimer's Spouse - a website I started in July 07, when the shock of what Alzheimer's Disease was doing to a decades long loving marriage had me in emotional turmoil.
Parkblog-Sliverfox - This blog documents how Lewy Body Dementia has changed my life. It is a continuation of the previous title; "Sharing my life with Parkinson's and Dementia" because the diagnosis has become more firm.
Surviving Alzheimer's - Blog run by Paula Spencer Scott, the author of 'Surviving Alzheimer's'. It covers some practical time and provides 'soul-saving' wisdom for caregivers.
Steps & Stages - An excellent resource for family caregivers run by one of our partners - Caring.com