Will We See You at the SCOPE Summit?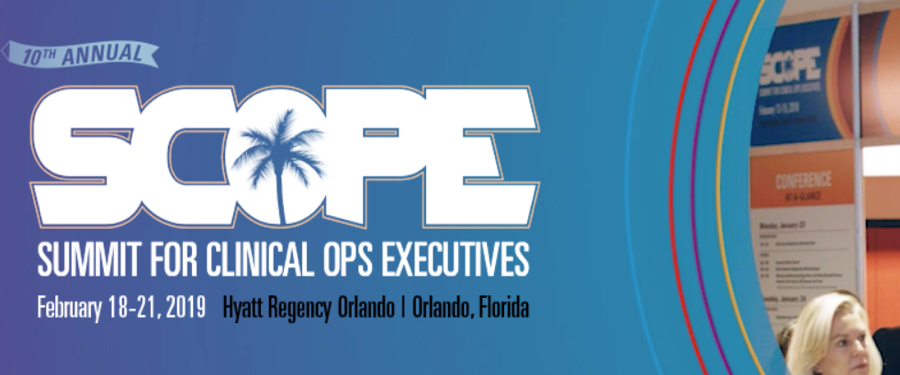 Once a year, we head to Orlando to collaborate with and learn from some of the best and brightest minds in clinical trial operations. That's right: we're attending the SCOPE Summit next week.
We're especially excited about this year's event, which will be focusing on broad themes that are near and dear to our hearts: digital trends changing the healthcare experience; doctor, patient, and caregiver perspectives on trials and engagement; and patient centricity. As a digital health company working to improve recruitment while keeping the patient at the center, we're looking forward to learning from this year's speakers and sharing ideas with our fellow attendees.
And, like last year, we'll be exhibiting too, focusing on how precision recruitment can accelerate trial quota fulfillment in a world where increasingly complex clinical trial protocols are rendering traditional methods of recruitment ineffective. Precision recruitment means:
Using a strategic, highly optimized approach to identifying and recruiting eligible and engaged patients for your study.
Leveraging digital recruitment to cut through the noise and identify interested patients who meet your specific eligibility criteria – including lab-verified values.
Achieving your goals faster by reaching beyond typical digital channels through our robust partner network of more than 265 patient communities.
In our experience, these methods can save up to six months of recruitment time, which is critical to budgets and timelines, and most importantly gets treatments to patients who need them more quickly.
If you're on-site in Orlando, stop by Booth 912 to learn more! And as we're focusing on saving time, we'll appropriately be raffling off an Apple Watch; you can enter to win by dropping your business card at Booth 912.