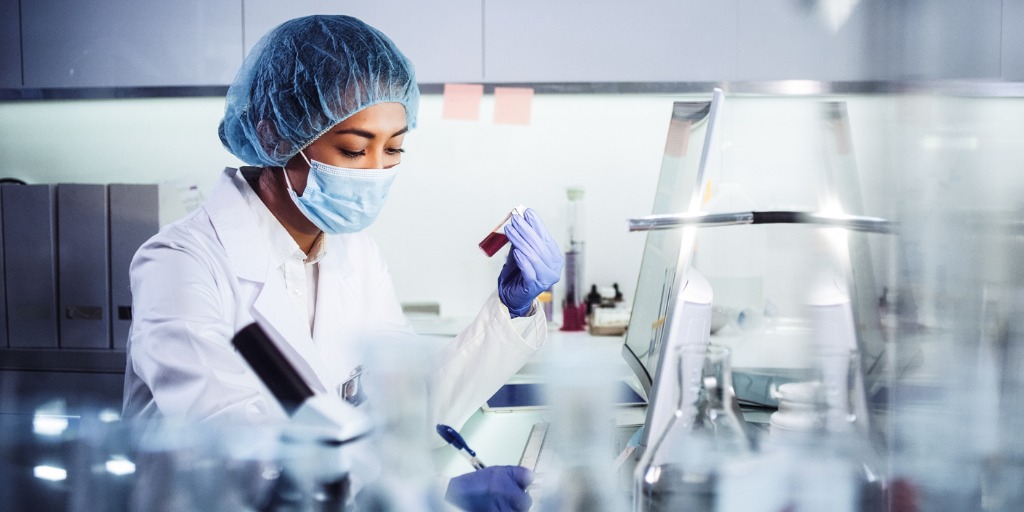 COVID-19 took the world by storm in 2020, propelling scientists, healthcare workers, first responders, governments, and pharma companies from around the globe to band together with the goal of curbing the pandemic. As we continue to learn about COVID-19, more and more research is being published about the virus, vaccines and treatments, and the virus' behaviors. We highlight a few recent developments from the COVID-19 research landscape.
Note: COVID-19 research is consistently evolving. The content in this blog was up to date at the time of writing.
COVID-19 vaccine updates
Researchers around the world are crafting different types of COVID-19 vaccines in their labs. These vaccines are all trying to help people gain immunity to the virus, prevent severe (and fatal) symptoms, and stop transmission. As of today (this number will continue to change), approximately 44% of the United States population has been vaccinated (309 million doses have been given, and 144 million have been fully vaccinated).
The main types of COVID-19 vaccines currently available in the U.S. or in large-scale clinical trials include:
Messenger RNA (mRNA) vaccine: The first two emergency use authorized vaccines for COVID-19 were the Pfizer-BioNTech vaccine (2 shots, 21 days apart) and the Moderna vaccine (2 shots, 28 days apart), both of which use mRNA. These trials both had tens of thousands of participants, and the vaccines are considered safe and effective. The U.S. Food and Drug Administration (FDA) expanded the emergency use authorization (EUA) for the Pfizer-BioNTech vaccine to include adolescents ages 12 to 15 years old. Pfizer has said it will likely seek an EUA for its vaccine for children ages 2 to 11 in September of 2021. In a June 10, 2021 press release, Moderna announced that it has requested an EUA for its COVID-19 vaccine for adolescents ages 12 to 18 years old.
Vector vaccine: The third emergency use authorized vaccine for COVID-19 is the Janssen/Johnson & Johnson COVID-19 vaccine (one shot), a vector vaccine that is also considered safe and effective.
The most recent news on the vaccine front is the research development of the protein subunit vaccine. These vaccines include only the parts of a virus that best stimulate your immune system. In a press release on June 14, 2021, Novavax recently announced that NVX-CoV2373, its protein-based COVID-19 vaccine, demonstrated 100% protection against moderate and severe disease, 90.4% efficacy overall, and met the primary endpoint in its phase 3 trial. "The study enrolled 29,960 participants across 119 sites in the U.S. and Mexico to evaluate efficacy, safety and immunogenicity, with an emphasis on recruiting a representative population of communities and demographic groups most impacted by the disease." Novavax intends to apply for authorization in the third quarter of 2021 to a variety of countries.
Mild COVID-19 cases and long-lasting antibody protection
According to a recent study from researchers at Washington University School of Medicine in St. Louis, months after recovering from mild cases of COVID-19, people still have immune cells in their body pumping out antibodies against COVID-19. These cells could persist for as long as a lifetime, churning out antibodies all the while. The findings were published in Nature, and suggest that mild cases of COVID-19 leave those infected with lasting antibody protection. This means that repeated bouts of illness due to COVID-19 are likely to be uncommon.
"... Here, we found antibody-producing cells in people 11 months after first symptoms. These cells will live and produce antibodies for the rest of people's lives. That's strong evidence for long-lasting immunity," said senior author Ali Ellebedy, PhD, an Associate Professor of Pathology and Immunology, Medicine, and Molecular Microbiology. The next steps are to replicate the study in people with moderate to severe infections to understand whether they are likely to be protected from reinfection. The study team and other colleagues are now researching whether vaccination also induces long-lived antibody-producing cells.
Sun, COVID-19, and the possibility of a lower death toll
If you like to spend time in the sun, you might also like this news. According to recent research from the University of Edinburgh, increased exposure to the sun's rays (specifically UVA) could act as a simple public health intervention if further research establishes it causes a reduction in mortality rates. The findings were published in the British Journal of Dermatology.
An observational study team compared all recorded deaths from COVID-19 in the continental US from January to April 2020 with UV levels for 2,474 US counties for the same time period. They found that people living in areas with the highest level of exposure to UVA rays had a lower risk of dying from COVID-19 compared with those with lower levels. The analysis was repeated in England and Italy with the same results.
One explanation for the lower number of deaths is that sunlight exposure causes the skin to release nitric oxide. This may reduce the ability of the virus that causes COVID-19 to replicate. Previous research from the same group has shown that increased sunlight exposure is linked to improved cardiovascular health. As heart disease is a known risk factor in dying from COVID-19, this could also explain the latest findings.
"There is still so much we don't understand about COVID-19, which has resulted in so many deaths worldwide," said Dr. Richard Weller, Consultant dermatologist and Reader at the University of Edinburgh. "These early results open up sunlight exposure as one way of potentially reducing the risk of death."
In the relatively short period that COVID-19 has spread across the globe, there have been significant research developments aimed at stopping the virus. COVID-19 research continues to be urgent, and there is something we can all do to drive this research forward: participate in clinical trials. We've made the process of finding COVID-19 trials easy with our smart Match search engine. Start your search today, and help advance medical research for everyone.