How to Find Diabetes Clinical Trials Near You

There are currently 263 studies for type 1 diabetes and 710 studies for type 2 diabetes looking for volunteers. Most studies need hundreds or even thousands of volunteers to take part, so if you're interested in joining a trial, chances are there's an option for you out there.
All registered clinical trials are listed on www.clinicaltrials.gov. But, because it was built for researchers, not patients, that site can be difficult to navigate. An easier way to find clinical trials online that you may qualify for is to use a search tool. Some nonprofits have disease-specific clinical trial search tools on their websites. You can also use tools like Antidote Match, which we developed to be a more patient-friendly option for those looking for a trial.
Here's how it works:
1. Enter whether you have type 2 or type 1 diabetes, and where you're looking for a clinical trial.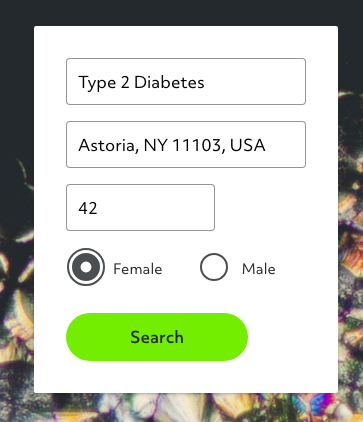 2. Answer a few questions about your diabetes, such as your latest hemoglobin A1c score or your current medications. Every trial has different exclusion and inclusion criteria, so these questions help narrow down the trial list to only those trials for which you are likely to qualify. If you don't know the answer, you can skip any question. You can also view a list of trials you may qualify for based on your answers at any time, by clicking on "view trials."
You may also be asked questions about your current medications. Every trial has different exclusion and inclusion criteria. Some want participants to be on certain medications, while others exclude patients who are taking certain ones.

3. View your results. After you've answered a few questions about your diabetes, you're ready to look at your results. Click into a trial to learn more about it. In each listing, you'll see details about the trial's goal, what phase trial it is, and the intervention being studied, as well as its participation requirements.
4. Reach out to trials you're interested in. If you find a trial that you'd like to learn more about, email the details to yourself, then call or email the site to learn more.
New treatments can't reach patients without clinical trial volunteers. If you're interested, start searching for a diabetes clinical trial below.