Melanoma Research Alliance Retreat Highlights Collaboration and the Patient Voice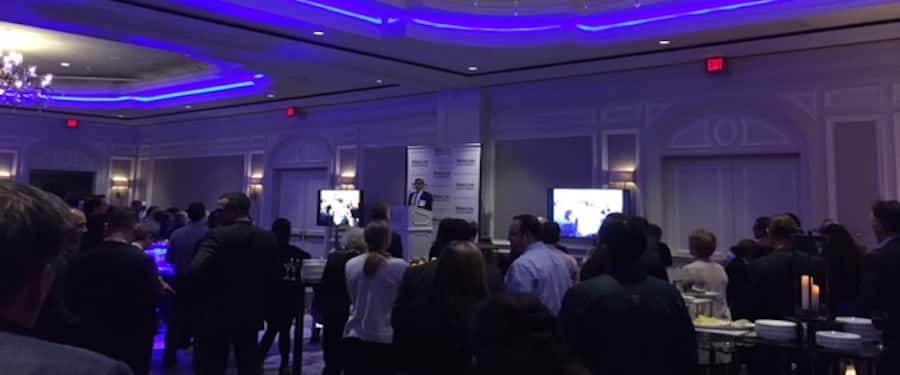 I can't count the number of medical conferences I've attended over the years. Word to the wise: If you're a layperson, you'll probably feel out of place. The discourse is decidedly professional, complete with expert vocabulary and statistical analyses and charts.
That's why I was so surprised by this year's Melanoma Patient and Foundation Forum, part of the 10th Annual Scientific Retreat of the Melanoma Research Alliance (MRA). It was a half-day session for melanoma patients, survivors, advocates, and their loved ones to gather as a community. The tone was warm and plain-spoken, and the topics were as important as they come: the state of melanoma research, the importance of clinical trials, advances in prevention and detection. There were takeaways from every speaker, and the information was clearly presented and actionable. I've rarely seen anything like it.
Much of the credit for this is owed to Michael Kaplan, President and CEO of the Melanoma Research Alliance. From the podium at the Ritz Carlton in Washington, DC., he shared his goal: give patients and advocates the information they need to encourage conversation and collaboration with researchers and clinicians at the meeting.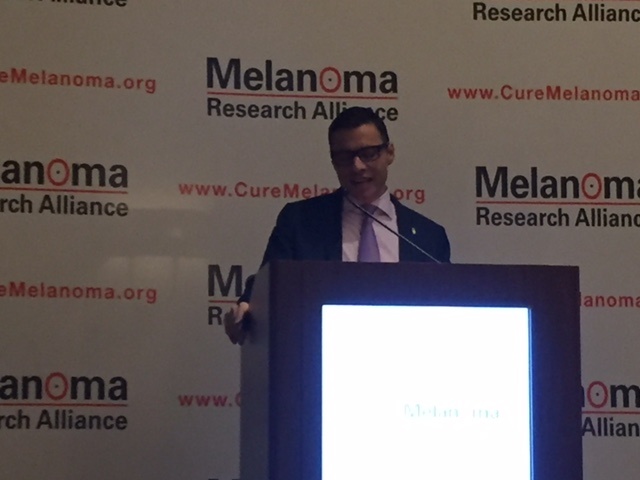 One of the speakers was Dr. Douglas Johnson of the Vanderbilt-Ingram Cancer Center. His "Melanoma Research 101" was an engaging, TED-style presentation that used storytelling to assess the future of research in the field: "once a clinical wasteland, we've made a lot of progress but have not yet reached our ultimate goal that no patient dies of melanoma." That's a huge stride in the fight against the deadliest form of skin cancer.
Cody Barnett, Director of Communications at MRA, took the stage to demonstrate Clinical Trials Navigator, powered by Antidote. For Barnett, it's an important new weapon in the battle to defeat melanoma. This presentation prepared the way for a meeting with Melanoma Action Coalition the following morning. The Coalition is a group of community-based melanoma foundations, a growing number of which host Antidote's clinical trial tool on their sites. Here I had the opportunity to discuss our clinical trials search tool in more detail.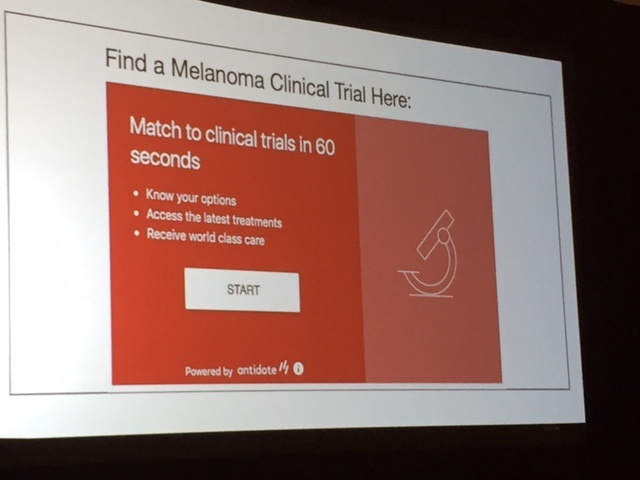 Like the MRA, here at Antidote we're committed to making clinical trial participation accessible to everyone. I think that community-centric, inclusive message resonated with the audience at the Melanoma Patient and Foundation Forum, too.
I left the conference feeling confident that together we'll make real progress toward a world without melanoma. I look forward to attending next year and learning more from this dedicated community.