SCRS Recap: A Look at the Latest in Clinical Trial Recruitment

Last weekend, we had the pleasure of exhibiting at the SCRS Global Site Solutions Summit, an annual gathering of nearly 1,000 people - largely researchers - all interested in discussing the latest in clinical trial recruitment. We enjoyed meeting so many people who are touching patient's lives every day; it's at meetings like SCRS that you can truly see the dedication that sites have to advancing medical research for patients.
We were honored to have conversations with several of these researchers and site representatives, and pleased to learn more about how Antidote's products and services can help them in their research. As our Chief Development Officer, Tom Krohn, said, "SCRS does a great job of bringing together sites and research leaders to dialogue on areas of improvement and shared learning. As a pharmacist, I always appreciate getting close to patient care - and that happens at sites. One can feel the commitment to patients and advancing research. I'm grateful to be on the journey with so many committed and competent leaders."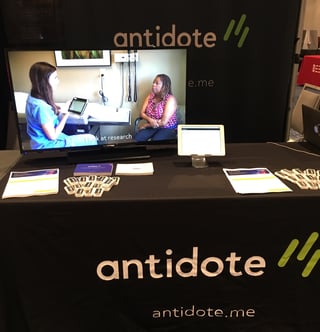 We were there to share our new patient connection platform, Antidote Base. Base allows sites to tap into our our unique network to search for and connect with patients who are eligible and engaged. We also shared 3-month results of our pilot with one of the largest site networks in the country. You can download the case study from that pilot by clicking below.
In addition, our Senior Vice President of Commercial Operations, Nandini Nayar, facilitated a workshop on the use of social media in clinical trial recruitment. Over the past few weeks, we have surveyed 56 sites on their recruitment practices, and the results support these findings:
57% use internet advertising through social media

Only 9% rank internet advertising as their most successful method of outreach

82% do not consider their internet outreach entirely successful
Based on the workshop we facilitated at SCRS, it seems that there is great interest in Facebook advertising, and it's working reasonably well for sites and sponsors in reaching large swaths of patients. However, attendees reported the usual funnel problems: 30-50% of patients identified through Facebook did not respond to follow up calls, and large percentages of those who did were actually not interested in or eligible for their studies. While the attendees found it helpful to hear that others in the room were facing similar challenges, Nandini noted that, "I was surprised at the amount of sites who seemed to be viewing Facebook as their only option to reach patients through social media or where they are already engaging." Small group discussion centered around other options, such as Twitter and Google advertising, working with exisiting online health communities, and trying networks like Antidote Base.
To learn about Antidote Base, a whole new approach to patient engagement, download our case study below.