What Role Does Health Literacy Play in Clinical Trial Participation?

During Q3 2018, Antidote Technologies and SCORR Marketing partnered on a survey to gain a deeper understanding of patient perceptions of clinical trials and what can motivate them to participate. Survey participants were recruited by eight of Antidote's partners, including the American Kidney Fund, Allergy & Asthma Network, Healthline, JDRF, Lung Cancer Alliance, Lupus Research Alliance, Melanoma Research Alliance, and the Multiple Sclerosis Association of America, which allowed Antidote and SCORR to obtain perspectives from nearly 4,000 patients with an array of conditions that could impact their thinking and behaviors.
Our survey results offer a deeper look into patients' motivations to participate in clinical trials. The intent is to provide the industry and other stakeholders with insights that will allow them to embrace patients as partners in clinical research.
This is the first in a series of blogs discussing some of the implications of the research.
Step 1: Educate
With 80 percent of internet users searching for health information online, it makes sense to deploy digital channels to connect patients to clinical trials. However, despite this apparent willingness to seek health information, health literacy remains low.
Low health literacy is costly. According to John A. Vernon, PhD, Department of Finance, University of Connecticut National Bureau of Economic Research (NBER), et al., "Individuals with low health literacy experience greater health care use and costs compared to those with proficient health literacy. Through all its impacts — medical errors, increased illness and disability, loss of wages, and compromised public health — low health literacy is estimated to cost the U.S. economy up to $236 billion every year."
In addition to health-related costs, low health literacy slows clinical research and the development of new medicines and medical devices. Patients who do not have a good understanding of clinical research are less likely to participate in clinical trials. This is borne out in our survey: respondents who were more knowledgeable about clinical research were twice as likely to participate in a clinical trial than those who had less understanding.
And, patients do, in fact, want to improve their health literacy – and learn more clinical research. In our survey, 77% of respondents indicated they want the industry to make it easier to learn about clinical trials, 70% want findings from clinical trials more readily available, and 66 percent want clearer information about the costs of participating.
So how should the clinical research industry increase research knowledge? Certainly, patient communities and advocacy groups can play an important role in improving health literacy and educating patients about clinical trials where they are searching for information — online. Another independent research study found that 57% of patients search for health information online first while 32 percent go to their doctor or other health care professional first.
In our survey of patients, while respondents showed a clear preference for receiving information about clinical trials from their doctor or health care professional, 49% want to receive information from patients who have previously participated in a clinical trial, and almost twice as many preferred to receive information from an advocacy/nonprofit organization or health and wellness website (42%) than from a drug company or advertisement.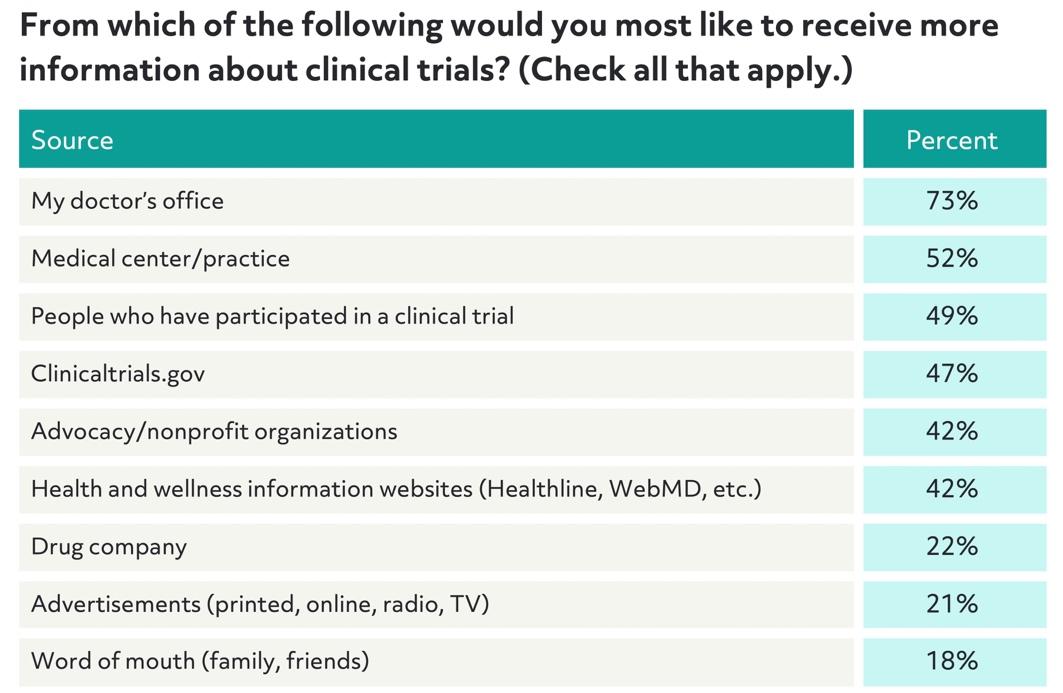 The FDA also sees the potential value in a more collaborative process and developed a new draft guidance (December 2018): "Patients, caregivers, patient and disease advocacy groups, and other stakeholders with knowledge of or access to the patient community, may be well-positioned to also make broader contributions to advance medical product development."
Step 2: Engage
In addition to the contributions that patient communities, advocacy groups, and health and wellness websites make toward educating patients, pharmaceutical and clinical research companies are using electronic health records and other online semantic data to identify patients in medical practices who could be eligible to participate in clinical trials. However, finding patients who meet the trial criteria does not necessarily guarantee those patients will be willing to partake in the study.
To bring patients to the next step, clinical research education, identifying specific patient needs, and empowering them to make personal health care decisions may be the critical bridge between finding patients and enrolling them in a study. Here again, knowledge is key. Patients who exhibited less clinical trial knowledge in the survey expressed less confidence in their ability to make well-informed health decisions, like signing up for a clinical trial.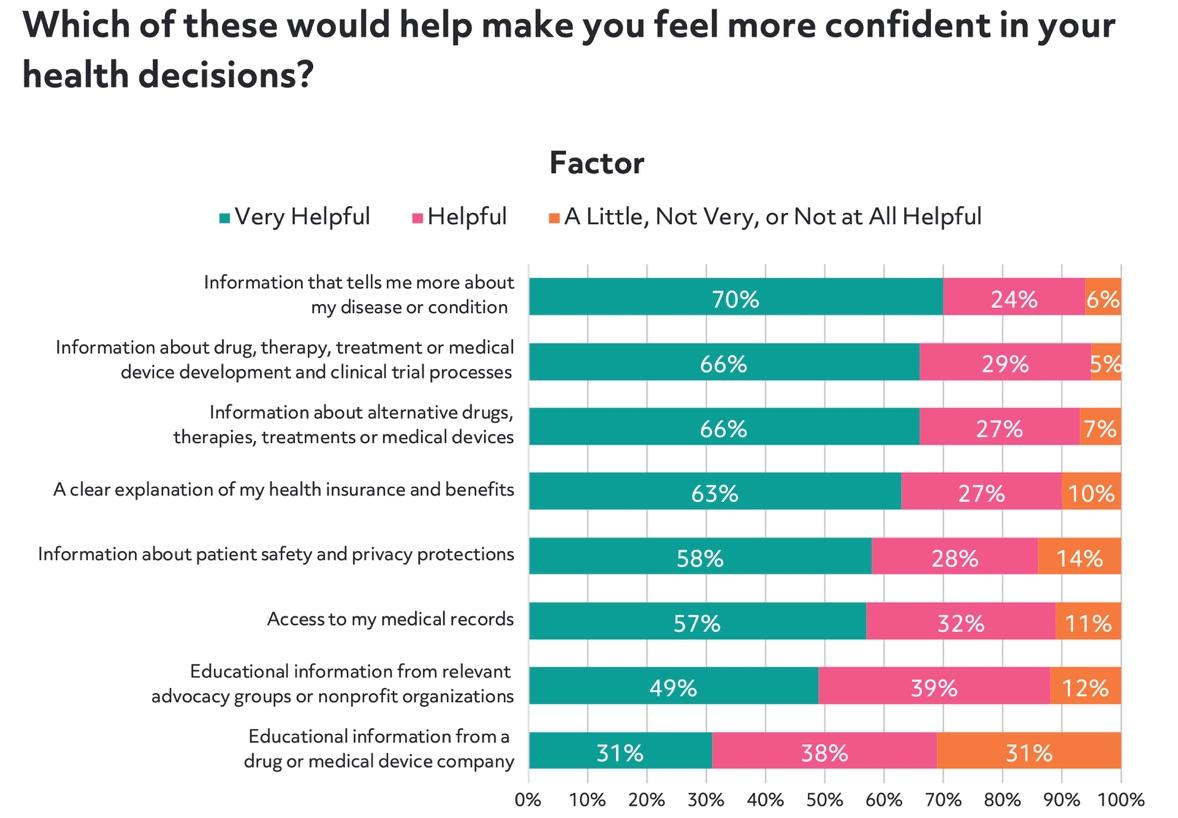 One approach is to quickly engage patients and encourage them to take the next step once they have expressed interest, for example, while they're actively searching online for trials, allowing the motivated patient to take some control of the process. Think With Google, a data resource site established by Google, backs up this approach, finding that 81 percent of smartphone users do searches on their phones that are more focused on information they need immediately in order to take action."
Providing plain-language educational materials and an online pre-screening questionnaire can accommodate this "need it now" behavior and can help move the patient forward to consider contacting a research site for more information. Once again, a prompt response or access to correct contact information is necessary to avoid the patient losing interest. This same approach is equally suitable for caregivers of patients with low health literacy, cognitive impairment, or physical symptoms that can interfere with online or digital engagement.
As indicated above, patients in our survey prefer learning about clinical trials from medical professionals — a result consistent with earlier studies. However, this isn't where they actually learned about clinical trials.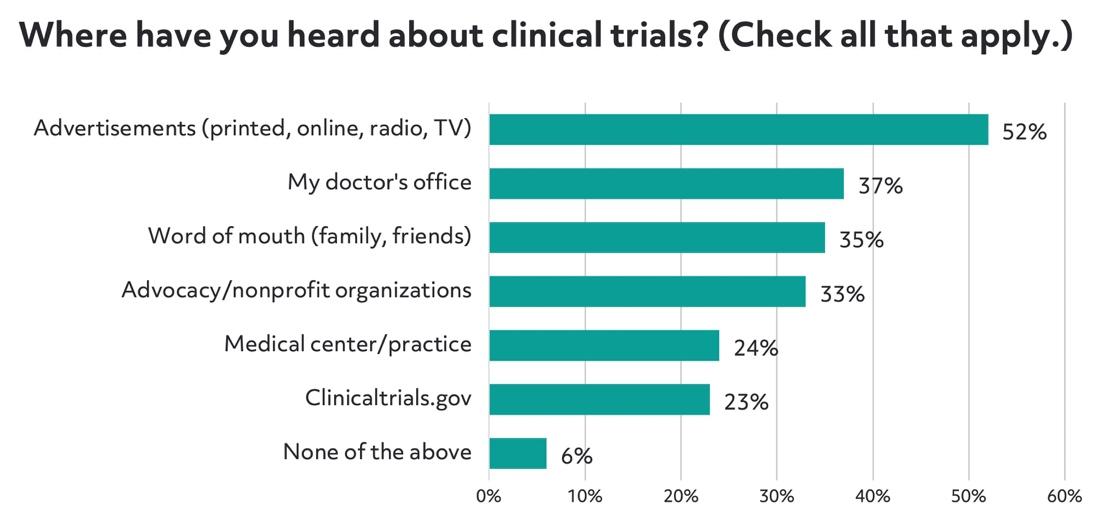 Advertisements were the most prevalent way that patients learned about trials, when in fact it was the second to last channel preferred by patients. Word of mouth was also cited by 35 percent of respondents for how they learned about clinical trials, but it was the least preferred channel. While these sources were identified as where patient have heard about clinical trials, other channels should be explored. Sixty-one percent of those surveyed use message boards and health-based online communities to learn more about their condition and the experiences of other patients.
Similarly, when survey participants were asked about what would make them feel like a partner in clinical research, speaking with medical professionals directly was key. While online advertising can be improved to ensure clear communication with patients, our survey results suggest that it's most important to connect patients with real people as quickly as possible during the patient recruitment process.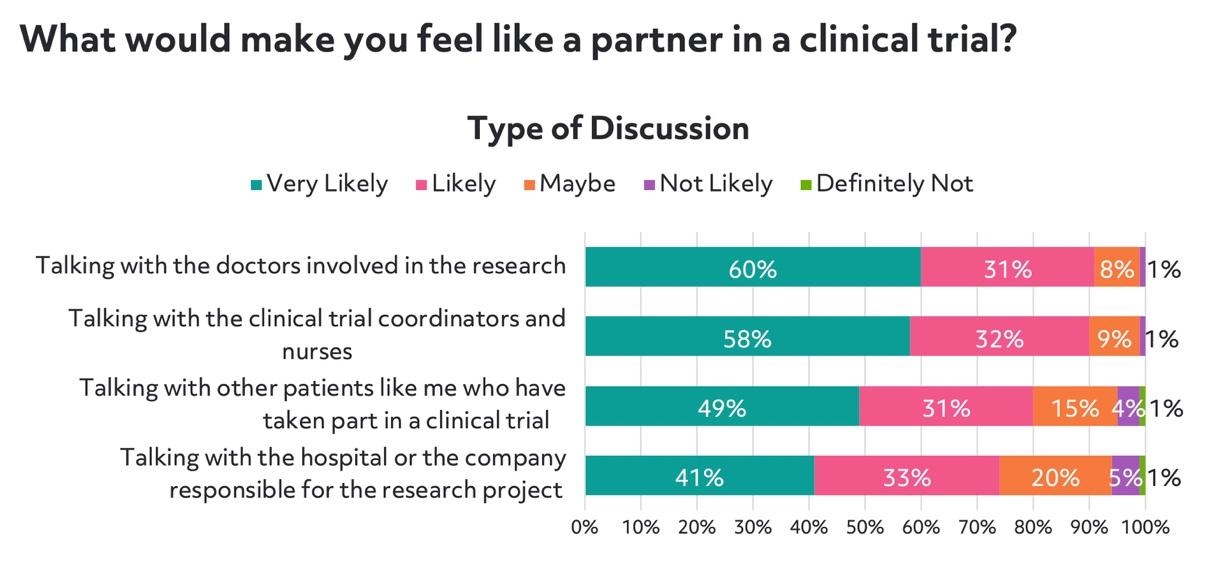 The survey findings, as well as actual online behaviors, point to the below process to help a patient progress to the point of speaking with staff at a research site:
Once the patient connects to the research site, the process moves from online to offline, and patients can learn more about the specific study from the people they want to learn from — medical professionals. But connecting more health savvy patients to research sites solves only part of the equation. What motivates a well-informed patient to take the next step is pivotal. Read our next blog to learn more about the insights from our survey about how a patient's condition(s) and other attributes can influence their thinking about clinical trial participation.