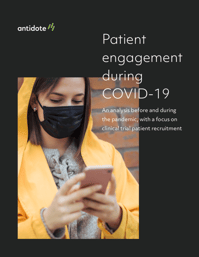 The digital marketing world looks quite different than it did in 2019. For some businesses, this means fewer dollars to spend on advertising, and customers no longer engaged with what they are offering. But during this COVID-19 crisis, the healthcare research industry is uniquely positioned. While many clinical trials are paused, many COVID-19 trials are kicking off, and one silver lining might be the worldwide attention given to clinical trials.
In our latest whitepaper, we dive into COVID-19's impact to-date on consumer behavior and digital marketing across various industries. We take a close look at digital engagement in the healthcare industry, particularly in regards to digital advertising for clinical trial patient recruitment.
Download our whitepaper to learn more.