7 clinical trial advertising sample ideas

Successful clinical trial advertising engages patients and encourages them to join your trial, while adhering to the strict guidelines laid out by the Food and Drug Administration (FDA). Getting creative within these confines can be a challenge, but with the right research and strategy, your ads can strike the appropriate balance.
As with any advertising campaign, it's important to test a variety of approaches before landing on the best option for your specific trial. Below, you'll find a few examples of successful advertising. As you put together your next packet of materials to submit to your IRB, consider including a few of these ideas to test out for yourself when your latest campaign launches.
Appeal to a sense of volunteerism.
Helping advance science is one of the top reasons clinical trial participants cite for joining a trial. Patients might also be interested in accessing a potentially better treatment, and helping others diagnosed with their condition. In your ad copy, focus on how the patient will benefit from taking part in a trial.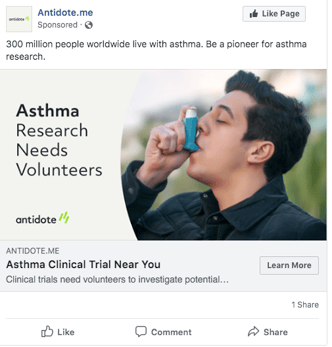 Highlight the benefits of participating.
The FDA restricts trial advertisements from prominently highlighting pay associated with the trial, or stating that participants will receive "free treatment." But there are other benefits to taking part in a trial that you can mention. In this example, participants can take part in the trial from home. In addition to helping research, convenience is a benefit you can include in your materials. The ad also mentions that the trial is paid, without emphasizing it.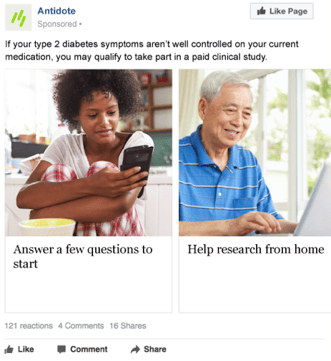 Get specific about eligibility criteria.
Mentioning specific eligibility criteria in your ad, particularly if it's a common medication or specific symptom, can help your ads attract the most relevant patients. While ads that are more general may bring in more clicks, a targeted ad may bring in patients who are more likely to qualify for your trial. Experiment with both options, but include copy in your outreach materials that addresses specific inclusion and exclusion criteria.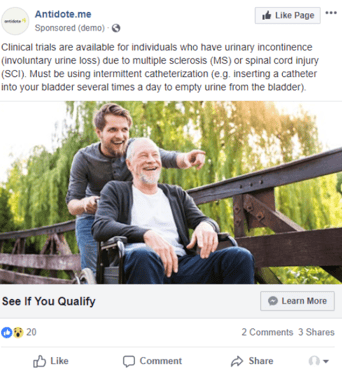 Choose imagery that patients can relate to.
When you can, select photos that reflect a symptom of the condition or life with the disease. For example, here, we chose an image of an Alzheimer's patient with his caregiver. The ad also acknowledges that it may be the caregiver who responds to the ad, rather than the patient, for an Alzheimer's trial.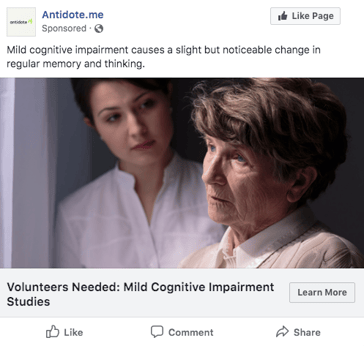 Use images that reflect your patient community.
Before choosing ad designs for your trial, research your patient population. For example, lupus is two to three times more common among women of color, so it makes sense to include plenty of options that reflect those demographics in your IRB submission packet. Be careful about your ad copy on Facebook, though – it shouldn't refer directly to personal attributes.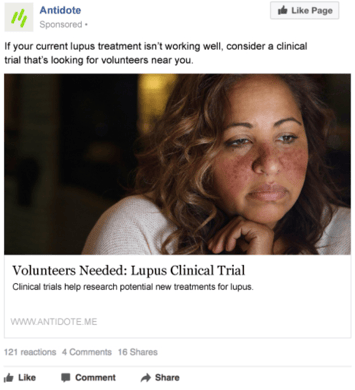 Test out different ad formats.
Facebook and other ad platforms offer a variety of ad types to choose from, such as stories, videos, carousels, and graphics. Stories are commonly used on Facebook and Instagram and are easily shareable. Video ads can help explain the clinical trial process more, or share an endorsement from a patient. Carousel ads can be an engaging way to list benefits of participating.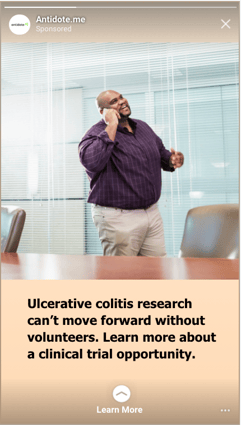 Reach patients who are searching for trial opportunities.
Paid search ads can be a great way to connect with patients who are actively looking for clinical trials. Include outreach copy that uses the same keywords patients would use when searching. If you target keywords that aren't clinical trial-specific, it's important to make it clear in your ad that you're advertising a clinical trial. Otherwise, you may waste your spending budget on patients who are looking for something different, such as general information about the condition.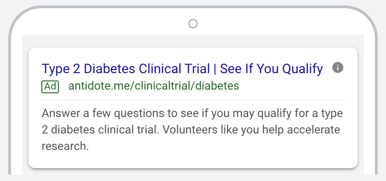 Looking for more clinical trial advertising support? Download our case studies to see how Antidote help you meet and exceed your clinical trial timelines.