7 Clinical trial advertising sample ideas

To successfully advertise a clinical trial, it is important to create materials that engage patients and adhere to the strict guidelines of the Food and Drug Administration (FDA) in equal measure. It can be challenging to come up with creative and captivating material within these confines, but by developing a strategic advertising plan, it's possible to find the appropriate balance.
Just as with any other type of outreach campaign, testing a variety of approaches is the best strategy for clinical trial digital advertising. Below, we have compiled some examples of successful advertising from past studies — and while every trial will have its own unique considerations, these can serve as good inspiration for compiling an IRB packet with plenty of options.
7 examples of clinical trial marketing materials
Appeal to a sense of volunteerism.
One of the top reasons reported by clinical trial participants is their desire to help advance science. Many individuals are often interested in the messaging that revolves around helping those diagnosed with their condition and helping to pioneer better treatment. Creating ad copy that focuses on the altruistic benefits of trial participation can be particularly effective.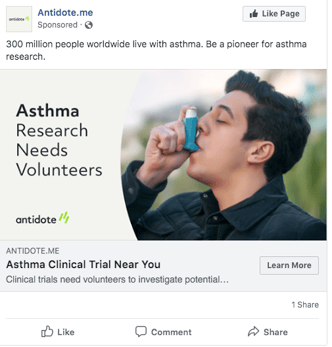 Highlight the benefits of participating.
While the FDA restricts clinical trials from prominently highlighting benefits in a way that may appear coercive, calling out compensation, access to potential treatments, and working with medical professionals are all allowed within reason. In the below example, this ad prominently calls out the benefit that participants can complete this trial from home and will receive compensation, without over-emphasizing it in a way that might get the ad rejected.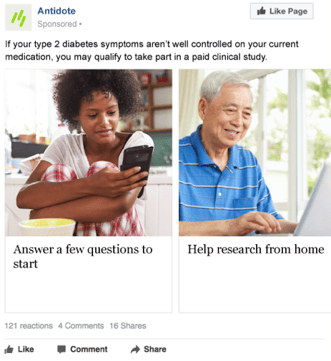 Get specific about eligibility criteria.
In order to attract the most qualified participants, it's important to be specific about a trial's eligibility criteria directly in the ad. Ads that are more general may lead to more clicks, but using specific and targeted language in ad copy can increase the ultimate likelihood of patient enrollment. While it's important to not be overly wordy or detailed in ad copy, it can be wise to test variations that address specific inclusion and exclusion criteria.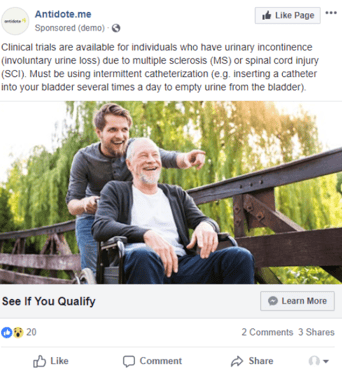 Choose imagery that patients can relate to.
When possible, it can be useful to select ad photos that reflect a symptom of the condition or life with the disease. In this example, we've chosen an image of an Alzheimer's patient with their caregiver. Not only can seeing thoughtful imagery capture the attention of patients more effectively, but it also acknowledges that in the case of a condition like Alzheimer's, it may be the caregiver who is viewing the ad.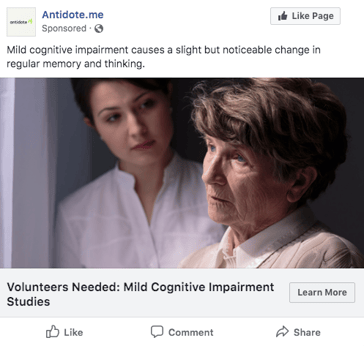 Use images that reflect your patient community.
When choosing imagery for an advertisement, it's important to understand the demographics of the patient population. While ad copy on Facebook can't refer directly to personal attributes, images that are likely to resonate with patients can be extremely effective. Using this campaign as an example, we knew that lupus is two to three times more common in women of color, so many of our ad images reflected this demographic.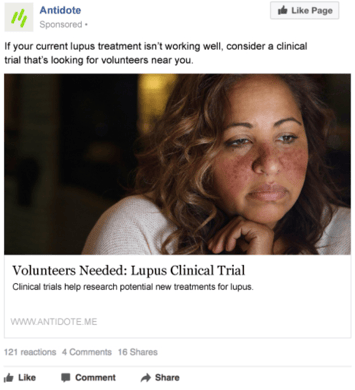 Test out different ad formats.
Platforms such as Facebook and Google Ads offer a variety of formats to choose from, including stories, videos, carousels, and graphics. These ad types can be customized with imagery, text variations, and graphics to create an engaging experience, so it is wise to try out different formats to learn what resonates with the audience.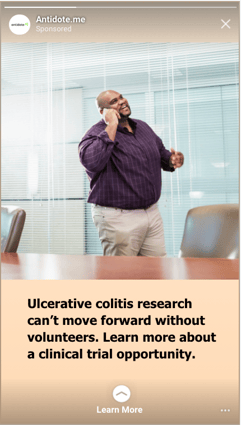 Reach patients who are searching for trial opportunities.
Reach patients who are searching for trial opportunities.
Using paid search ads offers a streamlined way to connect with patients who are actively looking for clinical trials. By targeting specific keywords a person may be entering during their search, helps reach the right patients. Keywords such as "local clinical trials" and "condition name research" are typically good places to start, but each campaign may have different variations that bring success.
search ads can be a great way to connect with patients who are actively looking for clinical trials. Include outreach copy that uses the same keywords patients would use when searching. If you target keywords that aren't clinical trial-specific, it's important to make it clear in your ad that you're advertising a clinical trial. Otherwise, you may waste your spending budget on patients who are looking for something different, such as general information about the condition.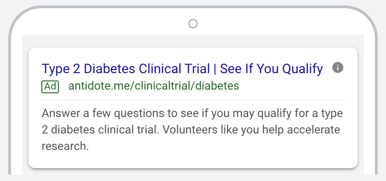 Looking for more clinical trial advertising support? Get in touch to see how Antidote can help sponsors reach patients at the right time.