Clinical trial advertising: The best options for patient recruitment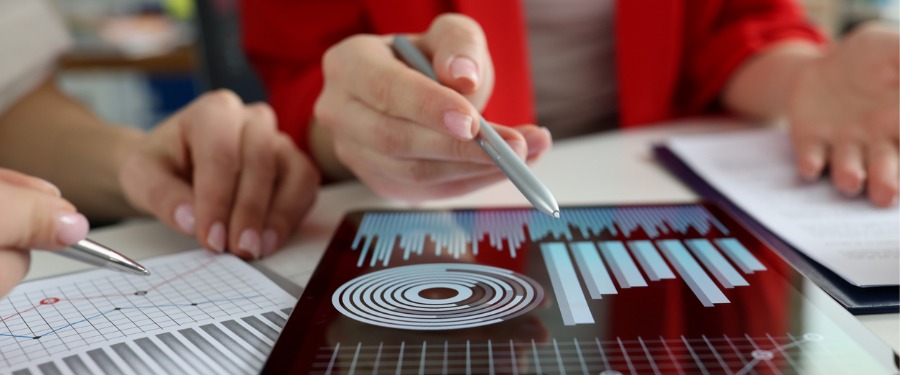 When contract research organizations and pharmaceutical sponsors need to recruit patients for clinical trials, they often work with clinical trial marketing and advertising companies to reach the right candidates. These companies use strategies like digital outreach, partnering with patient advocacy organizations, and other tactics to reach patients who may qualify for a trial and inform them on how to enroll. For organizations in need of clinical trial recruitment support, here are some of our best outreach suggestions.
Clinical trial digital advertising
With the right strategies, digital advertising for clinical trial recruitment can be an extremely effective outreach method. There are several channels that clinical trial advertising agencies use to reach potential study participants which are outlined below.
Social media advertising for clinical trial patient recruitment:
With nearly 5 billion active users each month between Facebook and Instagram, Facebook ads remain one of the most powerful ways to reach patients. Even if a particular audience is on the older side, Facebook may still be the right fit, as 62% of Americans age 65 and older use the platform. Facebook Ads provide the capability of targeting users by detailed interests and demographic information, in addition to being able to create lookalike audiences based on customer lists that already exist.
In addition to Facebook, it may also be useful for trials to experiment with recruiting patients via other social media channels. Twitter, TikTok, Snapchat, Quora, Pinterest, and Reddit are all alternative channels to try depending on the target audience demographics.
Other digital advertising channels for clinical trials
Paid search: Google AdWords and Microsoft Ads are two popular paid search platforms for reaching patients. These ads enable targeting patients who are actively searching for clinical trial opportunities, or seeking treatment options for their condition. However, for some conditions, the target pool can be large, which can lead to costly advertising expenses. Though time-consuming, closely monitoring clicks and conversion rates for keywords throughout the campaign will optimize outreach strategy and ensure that money is not being wasted on people who aren't good candidates for study.
Display ads: Display ads are banners placed on various websites that are likely to be visited by patients. Google Display Network is the most common way to distribute these types of ads, but there are others that might be better for reaching certain patient populations. Display ads are beneficial to advertisers that want to use strong visuals to attract patients, and they also provide more flexibility in the language used in the copy accompanying the design.
Non-digital clinical trial advertising options
In addition to using digital outreach, patient recruitment agencies may use a mix of print advertising types when determining how to recruit patients for clinical trials. These approaches may include:
Print advertising: If the target patient population is not as active online as others, or if the condition being studied is so common that broad-based advertisements might be effective, print advertising might be a good option for a study. According to a CISCRP survey, 58% of patients looking for a trial would prefer to start their search with their physicians — therefore, print collateral designed for doctor's offices or condition-specific clinics may be a targeted option for physical materials.
Partnerships: Patient recruitment companies may reach patients through strategic partnerships with organizations that operate within certain condition areas. In our patient survey, we found that while patients would most like to hear about trials from their doctors, nonprofits and fellow patients were a close second choice. Patient-focused organizations are often involved in advocacy around research participation, so individuals reached through these groups are more likely to be knowledgeable about clinical research participation opportunities.
Digital targeting strategies
It's never too early to optimize an advertising strategy — that's why experienced clinical trial digital advertising companies begin campaign optimization as soon as the ads go live.
"When I'm running a campaign, I'm always running tests," says David Tindell, Director of Digital Marketing at Antidote. "I'm either testing one audience segment against another, trying one copy variation against another one, or maybe one landing page against another."
In the first stages of a campaign, Tindell says that he's most focused on lowering the cost per patient for those who complete the trial pre-screener. As the campaign goes on, however, he starts to focus more on metrics farther down the funnel, such as cost per consent or randomization.
"Once we've referred a significant number of patients to sites, I'm much more interested in site feedback about how patients are screening, and analyzing which audience segments are most engaged with the study," he says.
Designing clinical trial ads
Effective use of imagery and design is crucial to the success of any clinical trial marketing campaign. Whether using designed text elements or images made to represent patients, it's essential to understand what appeals to the target audience. For digital outreach, eye-catching visuals are essential because users often make decisions about what ads to pause on within a split second.
Copy tips for clinical trial ads
Writing copy for clinical trial ads should also be done with the patient population in mind. Understanding the language that actual patients use surrounding the condition and speaking to the motivating factors for the specific study being advertised can go a long way towards ensuring that an individual's attention is captured. Additionally, writing should be clean, simple, and adhere to each platform's guidelines to avoid getting flagged.
How to work with a clinical trial patient recruitment company
Clinical trial patient recruitment companies provide a variety of services ranging from patient acquisition to database engagement and site management. When chatting with vendors, there are several questions that can be helpful for finding the right fit, such as:


What methods are used to recruit patients?
What is the company's payment model (subscription, pay-per-patient contact info, pay-per-randomization, etc.)?
Does the company offer additional services, such as pre-screener development?
Will the company screen patients over the phone?
For what condition areas has the company recruited in the past?
How does the company deal with high costs and other challenges during a campaign?
What outreach materials from previous trials can the company share?
Regulations and IRB submission
An important consideration for clinical trial outreach materials is creating pieces that will receive approval from the Institutional Review Board (IRB) and follow the rules outlined by the FDA which state that content cannot:
Be coercive in nature
State or imply that the drug/procedure device is safe or effective, or superior to other treatments
Emphasize patient payment for participation (though it can be mentioned)
Advertise "free medical care"
Market the clinical trial as a "new treatment" or "new medication," as it has not yet been approved by the FDA
It is also smart to include a range of copy variations in an IRB submission packet. This ensures that there are plenty of options to test against one another when running the campaign in order to determine how to best optimize for low costs and high results..
The future of clinical trial advertising
There are a few trends that may indicate what the future of clinical trial advertising might be. First and foremost is patient involvement, as patients are more interested than ever in being true partners in their treatment plans. For advertisers, this means that patient-centric advertising is a key focus, especially when designing content that speaks to the patient motivation for participating in research.
Secondly, the presence of digital health is a continued focus, and online marketing is only getting smarter. Individuals are heading to the internet to learn more about their conditions, treatment options, and research opportunities, so including this insight into outreach is key for maximizing reach.
Third, diversity in clinical trials is top of mind across the industry, and strategic advertising can make it possible to reach more patients from minority communities. Clinical trial recruitment agencies that focus on diversity, equity, and inclusion (DEI) often have clear strategies for outreach that can resonate with diverse populations and ensure that participants are accurately represented in the research
Finally, clinical trials with more flexible eligibility criteria are a continual request, and many sponsors are adjusting inclusion and exclusion criteria to respond. While this is exciting for research, it is important that advertisers have dynamic outreach strategies designed to be altered on a whim to respond to these changes.
Ultimately, successful clinical trial patient recruitment is about knowing patients and how to reach them. Researching patient populations, talking with advocacy organizations, and optimizing strategies in a dynamic way is a must for proper outreach, and this knowledge can inform every aspect of the recruitment process. At Antidote, we incorporate deep patient insights into everything we do — get in touch with us today to learn more.