After a Surprise Kidney Disease Diagnosis, This Patient Turned to Education and Advocacy

Patrick Gee didn't know that there were any problems with his kidneys until a doctor diagnosed him with kidney failure. Years on dialysis, four surgeries, 47 days in the hospital, and one successful kidney transplant later, he's participated in two clinical trials and become a proud advocate for the American Kidney Fund.
"My diagnosis really threw me into a tailspin," Gee says. "It made me learn to be my own advocate and to start doing some investigation into kidney disease."
Gee's experience isn't uncommon: 96% of people with kidney damage or mildly reduced kidney function are not aware of having chronic kidney disease, or CKD. That means many patients don't learn about their condition until they need to go on dialysis.
Gee was already living with diabetes and hypertension, which are risk factors for kidney disease, but he didn't realize his kidneys could be damaged by those conditions. Thinking back to health classes in high school and college, Gee doesn't remember kidney health ever being mentioned. He believes that socioeconomic factors come into play when it comes to patient education.
"A lot of times, education doesn't reach the most affected population, especially when it comes to healthcare, treatments or solutions," he says.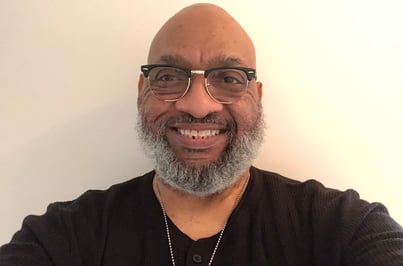 The two clinical trials he's involved in both aim to address health discrepancies in communities of color and other underserved communities, though from very different angles.
The first trial he participated in "found him," he says. A clinic at George Washington University, where he went for dialysis, was conducting a telehealth study to help improve access for patients in rural communities who have to travel long distances to get to bi-weekly dialysis appointments.
Each participant received a webcam for their laptop along with an electronically monitored blood pressure machine and weight scale. Every time participants weighed themselves or took their blood pressure, the devices shared data back with nurses at the clinic. The idea was that patients could also communicate with doctors over the webcam in case of an emergency.
One of the most interesting parts for Gee was being part of the learning and discovery process for the students working on the trial. The students met with participants weekly to gather their feedback.
All future nephrologists, some of the students had also studied engineering and were particularly interested in coming up with ways to innovate medical devices like Gee's catheter to improve the patient experience.
"Because I'm doing peritoneal dialysis, I have to walk around with so many pounds of fluid in my stomach," Gee says. "The engineers would say, maybe we can create a way that you wouldn't need the fluid in your stomach."
The second clinical trial Gee joined, which he's enrolled in today, is an observational trial that aims to learn more about how an APOL1 gene mutation functions in people of African descent.
African Americans with two copies of the APOL1 gene have an increased risk of developing CKD and progression to end-stage renal disease (ESRD). Variance in this gene helps explain why African Americans disproportionately develop the most severe forms of CKD and progress faster from CKD to ESRD.
Gee said he hopes the research will lead to more personalized treatments for kidney disease. He also has a personal reason for his interest in genetics, besides learning about his own makeup: he wants to move research forward for his daughter, who lives with lupus nephritis.
"The interesting thing is this particular gene has a secondary effect for people who may have lupus," Gee said. "I know that whatever I find out, I just want to help the next generation."
In addition to participating in research, Gee is also a patient advocate, running educational workshops and attending advocacy events for several kidney disease groups.
The American Kidney Fund (AKF), an Antidote partner, is his favorite organization to work with. He says that while they provide a wealth of valuable information about kidney disease and fund important research, it's most important to the organization to let patients take center stage.
"A lot of the time as an advocate, it feels like you're waiting for the coach to call you off the bench," Gee says. "AKF sits on the bench with us."
Whether he's participating in research or working as an advocate, Gee believes that the patient voice should come first. For Gee, participating in clinical trials in particular offers him a level of engagement in his healthcare that he strongly encourages other patients to take advantage of, too.
"I think clinical trials open up a way for patient engagement, to be able to understand everything that you're going through, and talk with researchers and physicians who are really trying to come up with a cure or treatment," Gee says. "It gives you buy-in to the solution, instead of just sitting on the sidelines."