How care partners can help newly-diagnosed MS patients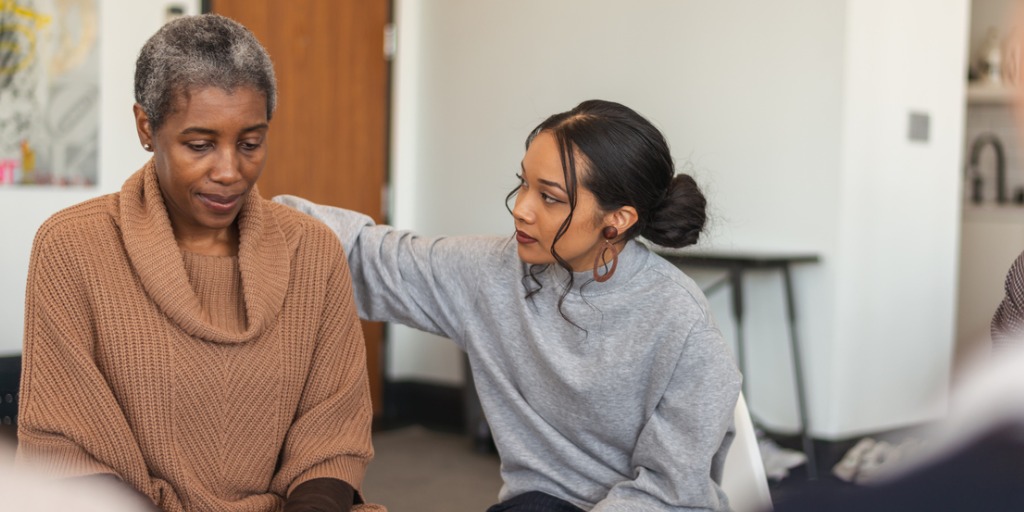 Receiving a multiple sclerosis (MS) diagnosis can be a very emotional event. Some individuals might experience a sense of relief in finally discovering the reasons behind their mysterious symptoms, while others might feel scared and isolated. Regardless, it's important for loved ones to help newly-diagnosed patients through the journey.
Below, we highlight three key ways that care partners can be there for their newly-diagnosed loved ones: be supportive, connect with communities, and develop a plan.
Be supportive.
MS is a disease associated with the central nervous system that's typically diagnosed in people between the ages of 15 and 50. MS is a degenerative disease, and researchers continue to search for its root causes.
Everyone experiences an MS diagnosis differently: some people might be angry or confused, while others might wonder what caused them to get MS in the first place. It's important to continue treating people as you always have, MS diagnosis or not (remember, MS is not contagious). Whenever your loved one is ready, open dialogue can be key for providing comfort.
Since MS can be unpredictable, it's important to be knowledgeable about the variability and severity of symptoms. Educate yourself about the symptoms, which are sometimes invisible (numbness, for example). Know that an individual with MS might have good days and bad days — and that it's always best to be prepared when a tough day may occur. Being present through the highs and the lows is a key way to show your support no matter what.
Offer help with routine activities that might become a challenge given the symptoms of MS. People with MS might need help safely getting to work, cleaning the house, or cooking. Treat someone with MS as you always have — they're still the same person they were before the diagnosis.
Connect with MS communities.
Newly-diagnosed MS patients and their care partners can find strength in community. From in-person support groups to online communities, there is an array of ways to connect with other MS patients, caregivers, advocates, and resources. Remember that no two people with MS are the same, so finding a group that is a good fit is very important.
Multiple Sclerosis Association of America (MSAA) offers educational resources for patients and assistance programs for receiving MS support items. My MSAA Community is a free peer-to-peer online forum for individuals with MS, their families, and their care partners to share information and their experiences with multiple sclerosis.
Facebook has many active groups for MS patients. Multiple Sclerosis -MS Connect Group, for example, has nearly 33,000 members. Most of the major MS advocacy organizations also have Facebook pages where they post regular updates, from advances in research to a miscellaneous content about MS.
MSWorld is an all-volunteer, patient-run organization that connects people living with MS through chat rooms, message boards, and other patient resources.
MS Views and News keeps those affected by MS empowered with information. They send out a monthly e-newsletter, post frequent educational videos, maintain a blog, and regularly share content on their social media feeds (Facebook, Twitter, and Instagram)
The subreddit, r/MultipleSclerosis ("Calling those with Multiple Sclerosis!), has 16,000 lively members, and "focuses on issues facing people with MS and their family and friends." The platform features conversations about support, research, drug therapies, nutrition, exercise, and more.
National MS Society is a large nonprofit organization that funds research and education programs. Walk MS and Bike MS are popular fundraising programs that host events around the country if you're interested in getting involved.
The Multiple Sclerosis Foundation, MS Focus, is committed to providing educational resources and ways to help those with MS educate others about their condition through the MS Focus Ambassador program.
Develop a plan.
MS symptoms can be extremely unpredictable. Helping create an action plan that evolves with the changing needs of someone with MS can be a game-changer.
Developing a plan of care is essential. This should be done together between people with MS, their care partners, and their healthcare providers. There are a variety of short- and long-term care plans, including taking an FDA-approved, disease-modifying therapy, physical therapy and exercise, nutritional counseling, stress management, and psychosocial issues and counseling options. Care partners can contribute by helping their loved ones track symptoms to share with the healthcare team, and partnering with the patient to understand health coverage benefits and finances.
In addition to approved disease modifiers and lifestyle changes, another option to consider with your loved one with MS is taking part in research. There are nearly 250 studies worldwide looking for MS patients to take part in clinical trials researching potential new treatments. While it's a common belief that clinical trials are mainly a last resort for patients who have exhausted other options, in fact, there are clinical trials available for patients at any point in their disease journey after diagnosis. Some trials specifically look for patients who have been recently diagnosed to take part.
"Research became part of my story because it felt like something I was doing," says Diane Kramer, a MS clinical trial participant. "You feel like MS happens to you and it's really difficult to find actions that you can take. Research feels like an action — you're giving something that no one else can do, only you can do it."