In Clinical Trials, What Matters to Patients Varies by Condition Area

During a Q3 2018 survey conducted by Antidote Technologies and SCORR Marketing, we explored specific participation stimuli to determine what could make patients consider participating in a clinical trial – and how these motivations varied by condition area.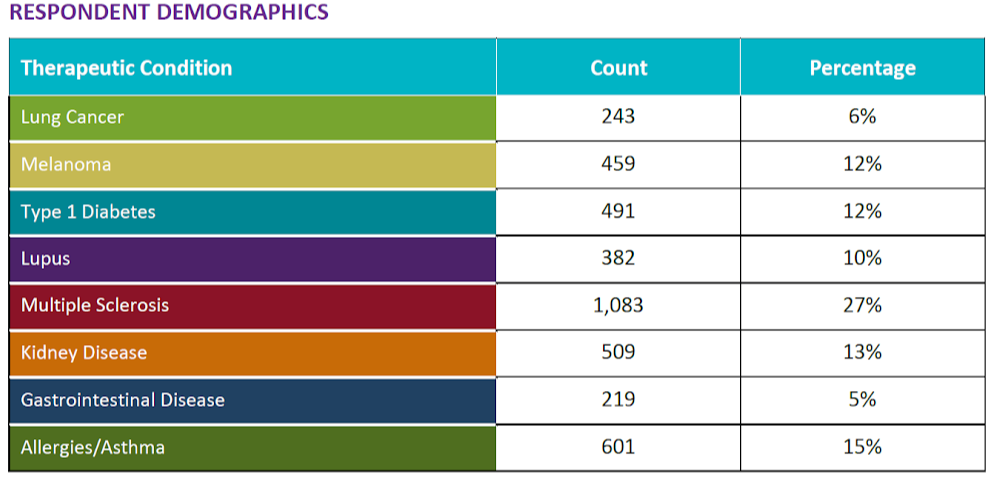 In general, survey participants expressed a clear interest in learning more about clinical trials from patients like them. In addition, they indicated that researchers could motivate patients like them to partake in trials by making it easier to learn about research opportunities, providing easier access to findings from trials, and providing clearer information about the costs of partaking in a trial (time, financial, etc.).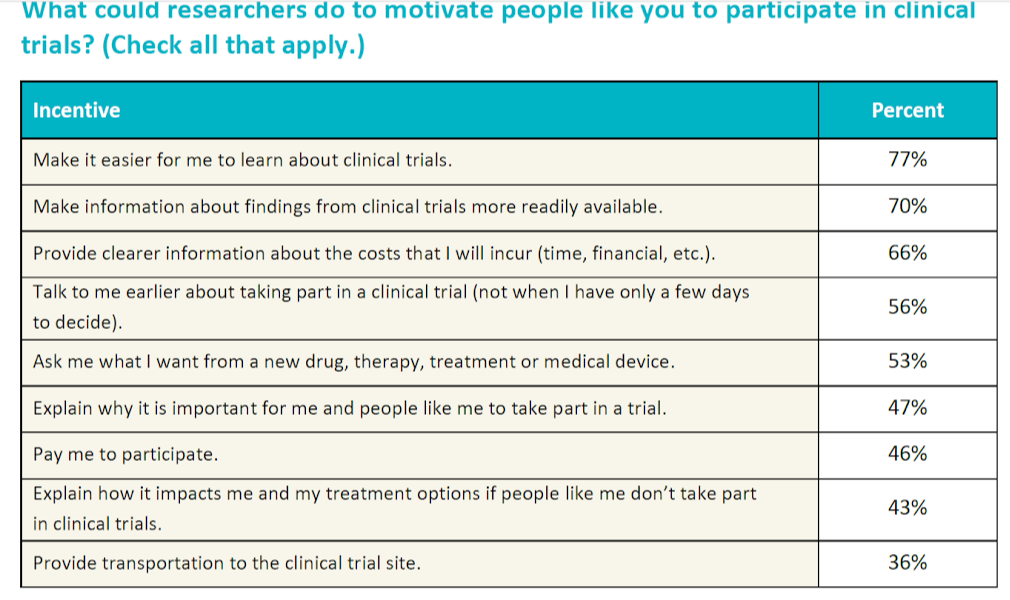 Table 2
While financial benefits were generally less important than other motivators, allergy/asthma patients are more than twice as likely to believe payment for participation would be a motivator than patients with melanoma or lung cancer. Younger survey respondents believed payment for clinical trial participation could be a more important motivator than other age groups.
Few respondents believe providing transportation to the trial site is a primary motivator; however, those with lower household incomes believed transportation was more important than respondents with higher incomes.
Safety is a priority
The survey participants were asked to rate the importance of 16 potential motivators for them to take part in a trial. Each motivator can be placed in one of the following categories: safety concerns, health benefits, logistical concerns, institutional support, and financial benefits. The percentage of the survey population rating the type of consideration as very important and the average ordinal ranking (where a lower number indicates a higher ranking) is as follows:

The survey data indicates that patients care most about safety. Almost three-quarters (73%) of respondents said that it was very important that "the clinical trial won't interfere with my current treatment or make my current condition worse." When asked about safety concerns, all respondents believed this to be important; however, it was rated most important by patients with kidney disease.
Though safety concerns are generally valued more highly than other types of motivators, each category of motivators was deemed as very important by some segment of the respondent population. Explaining the safeguards in place to protect patient safety may be the necessary precursor to a patient opening up to the idea of joining a clinical trial; however, to successfully convince the patient to join a trial might require other motivators.
Potential health benefits
With respect to potential health benefits, a clinical trial that could potentially extend a patient's life, improve quality of life, or provide access to a new medicine was valued by all survey respondents, but relatively more important to patients with lung cancer, melanoma, or kidney disease.
In our survey, we also considered the importance patients place on having digital equipment (e.g., a smart watch) or entering health information on a website. Patients with kidney disease rated this as most important, followed by those with multiple sclerosis (MS) and lupus. This is an area that should be explored further as kidney disease and MS often have certain co-morbid conditions that may impair dexterity, vision, or cognition that could make use of digital tools and solutions challenging, while at the same time having mobility issues that make digital tools advantageous. The takeaway is that digital tools need to be more patient-friendly with the specific needs of the patient population in mind.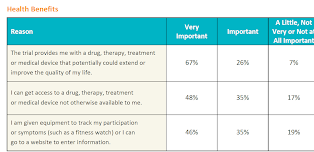 Meeting the needs for patient support
The survey also evaluated the importance of institutional support, specifically, the importance of patients having their questions answered throughout the study and having their doctor support their decision to participate in a study. While about two thirds (66%) wanted to ensure all their questions would be answered during the study, only half reported that it was important to them that their doctor support their decision to participate.
Looking at the data at the condition level, more than half of the patients with lung cancer, melanoma, kidney disease, MS, or lupus, did want their doctor's support to participate. However, patients who were more knowledgeable about clinical trials rated their doctor's support of their decision as less important. Also, respondents who have not participated in a clinical trial rated doctor support of their decision as more important than those that had already participated in a clinical trial.

Easing the burden of logistics
We asked survey participants several questions relating to the logistics of participating in a clinical study. While logistical considerations were considered less important than other factors in the survey, the survey results are still informative. Logistics factors are more important to patients with less education and lower incomes and also to non-Caucasians, women, and patients who have not previously participated in a clinical study.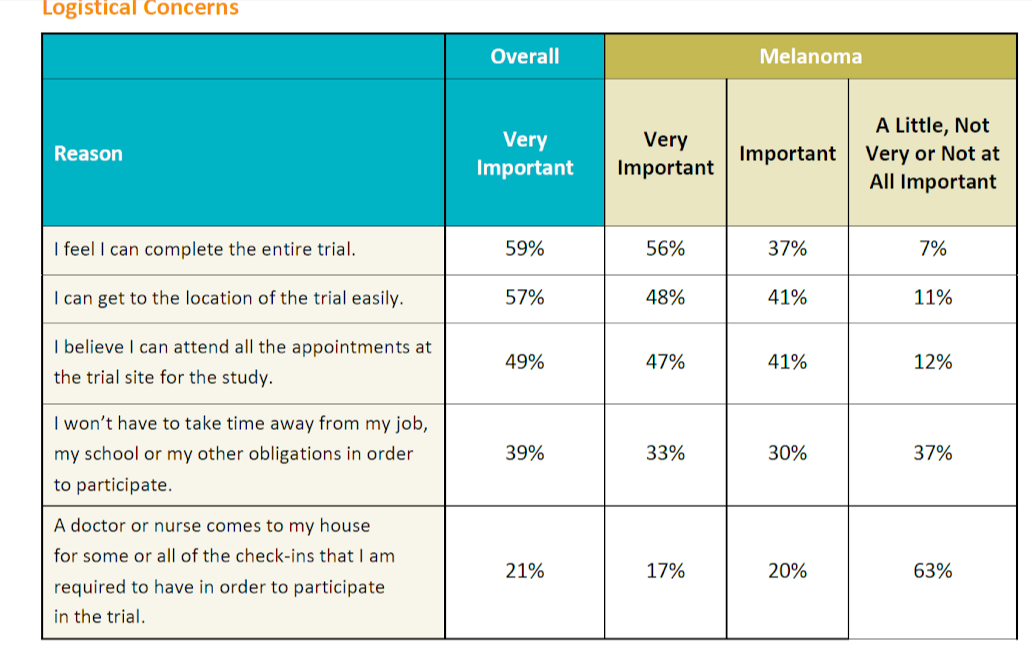 Table 6.
The ability to complete the clinical trial and get to the trial location easily was rated more important by respondents with gastrointestinal disease than any other condition. More than other patients with other conditions, allergy/asthma patients found it more important that clinical trial participation not require them to take time away from their job, school, or other obligations. This was also a priority for younger patients. Home visits were considered generally less important but respondents with kidney disease and older patients valued home visits more than other conditions and age groups, respectively.
Financial motivators
Financial factors influenced decision making the least in the survey population. The importance of financial factors was evaluated from three dimensions: Obtaining health care for free or at a reduced cost, receiving reimbursement for time and travel, and accepting payment for participation.

Table 7
Patients with kidney disease rated financial factors as more important than patients with other conditions, as did patients with less education and lower household income, women, and survey respondents who have not previously participated in a clinical trial.
How you can learn more
The survey data from nearly 4,000 patients with conditions including diabetes, kidney disease, cancer, multiple sclerosis, lupus, gastrointestinal disease, and asthma/allergies has been analyzed and summarized in a complimentary summary report available for download. A comprehensive research report is also available for purchase. The 180-page full report includes condition-specific patient profiles that provide insight into how the condition, education, income, age, race/ethnicity, gender, and prior clinical trial participation influence patients.
Lindsey Wahlstrom-Edwards, director of partnerships for Antidote, and I, will be holding a pillar presentation about this research at March 4 at 11 a.m. at the Bridging Clinical Research & Clinical Health Care Collaborative. We'll also be joining a panel discussion afterward to discuss the implications for patients, and leading a more informal discussion group during a lunch meeting that same day.