Melanoma clinical trials: A Q&A with the Melanoma Research Alliance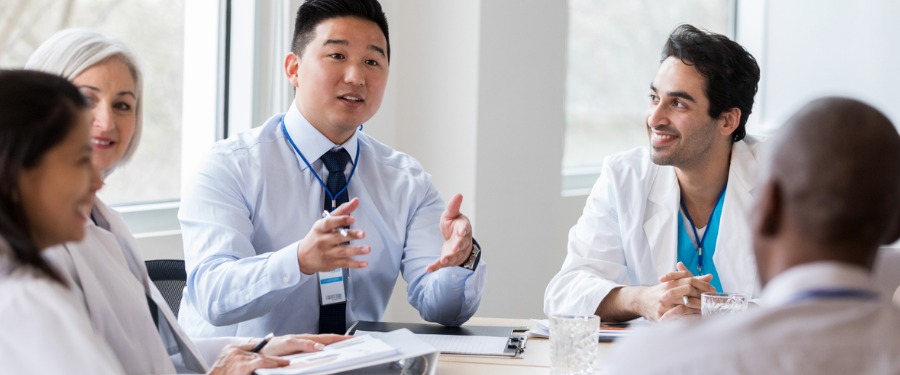 Skin cancer is more common than any other type of cancer, and melanoma causes a large majority of skin cancer-related deaths. While awareness surrounding melanoma and the importance of sun protection has risen in recent years, CDC research shows that melanoma rates have still doubled over the last three decades.
While preventing melanoma and other types of skin cancers is important, finding new and better treatment options for those impacted is also vital — which is where the need for melanoma-focused clinical trials comes in. Recently, we spoke with the team at the Melanoma Research Alliance (MRA) about the current status of melanoma research efforts, what exciting developments are happening in the space, and how clinical trials can be a resource for patients seeking potential treatment options.
What is the importance of expanding the reach of melanoma research efforts?
Fifteen new melanoma treatment options have earned FDA approval since 2011, helping patients live longer and fuller lives as a result. This drumbeat of progress is only continuing to accelerate, and there are now over 500 clinical trials currently enrolling patients with melanoma.
Due to this, it's more important than ever that patients and their families have access to supportive and patient-focused information about how best to navigate the rapidly changing melanoma treatment landscape. When facing a serious illness, access to accurate information about the latest research advances is so important.
Are there any new developments you're excited about in the field?
There are so many advances in melanoma right now, but some of the biggest that excite us include:
The FDA approval of KIMMTRAK, the first drug specifically approved for metastatic uveal melanoma. Not only does this bring excitement and hope to patients with this rare melanoma subtype, but it also proves that we can make meaningful progress without having huge patient populations.
The recent FDA approval of Opdualag, which combines two different immunotherapies into one medicine, is earning attention as an effective — and more easily tolerated — combination therapy. It also includes the first checkpoint immunotherapy targeting LAG-3.
We are also thrilled to see expanded eligibility for adjuvant therapy, specifically for patients with stage 2B and 2C melanoma.
What support networks are out there for people living with melanoma?
There are many different networks for people facing melanoma. From groups on the internet, to support groups at your local cancer center, there are many ways in which to connect with the broader melanoma community.
MRA works with Inspire to host the Melanoma Exchange online discussion community. The group has over 5,000 members that regularly discuss everything from being recently diagnosed to the latest treatment offerings.
What is MRA doing to engage the community and educate on the importance of participating in clinical trials?
Helping patients understand the importance of clinical trials and how they fit into a melanoma care journey is a huge priority for MRA. We know that clinical trials offer patients access to treatment approaches that may prove more beneficial than anything currently approved by the FDA. However, too many people don't understand the importance of clinical trials or how they fit into a patient's treatment journey.
To change this, we strive to demystify clinical trials so that patients have the information they need to be informed. We regularly profile patients who have experience with clinical trials to explore the actual lived experience of participating. We also regularly highlight clinical trials that patients may be interested in. Our ultimate goal is that all patients with melanoma at least consider participating in a clinical trial — you haven't considered all of your treatment options until you do!
How are you focusing on increasing diversity in research?
At MRA, we are committed to increasing diversity in our research portfolio and across the melanoma research landscape. We are deeply invested in advancing health equity for all patients facing melanoma.
First, our scientific staff does a great job of identifying barriers and overcoming any unintended bias as part of our grants program. We also issue special opportunities as part of our RFP process to encourage applicants from diverse groups and/or proposals focused on diverse communities.
Second, we work to elevate stories of people who have been impacted by melanoma from all walks of life so that all patients can come to our website and see someone who looks like them represented. We hear from our community all the time about the importance of being represented during what is undoubtedly a stressful, traumatic, and potentially isolating experience.
Finally, there is a damaging myth that melanoma and other skin cancers only occur among people with light-colored skin. This is absolutely not true! While people of color are diagnosed with melanoma less often, they are up to four times more likely to be diagnosed with advanced disease and 1.5 times more likely to die. To address this, we are working to raise awareness of melanoma (and how it presents) among the public and medical providers alike. We also will soon launch a direct-to-patient registry focused on rare melanoma subtypes that have far fewer treatment options and often go misdiagnosed.
We also acknowledge that this is still a work in progress. We don't have all the answers. We try to have honest discussions about the ways in which we can do better. We work with our peers as part of the Health Research Alliance to identify and adopt best practices to continue to refine, iterate, and do better for our entire community.
How is working with Antidote helping to advance research efforts?
Antidote has been a true partner for MRA throughout our efforts to raise awareness about the importance of clinical trials and advancing research. The Clinical Trial Navigator, powered by Antidote, serves as the centerpiece of our clinical trial awareness efforts. Our patient community loves that they can quickly discover which trials they may be a good candidate for without committing to anything. Antidote has also been incredibly helpful in making customized changes to the tool so it better meets the needs of the melanoma community.