A Q&A with the GO2 Foundation LungMATCH Navigation Team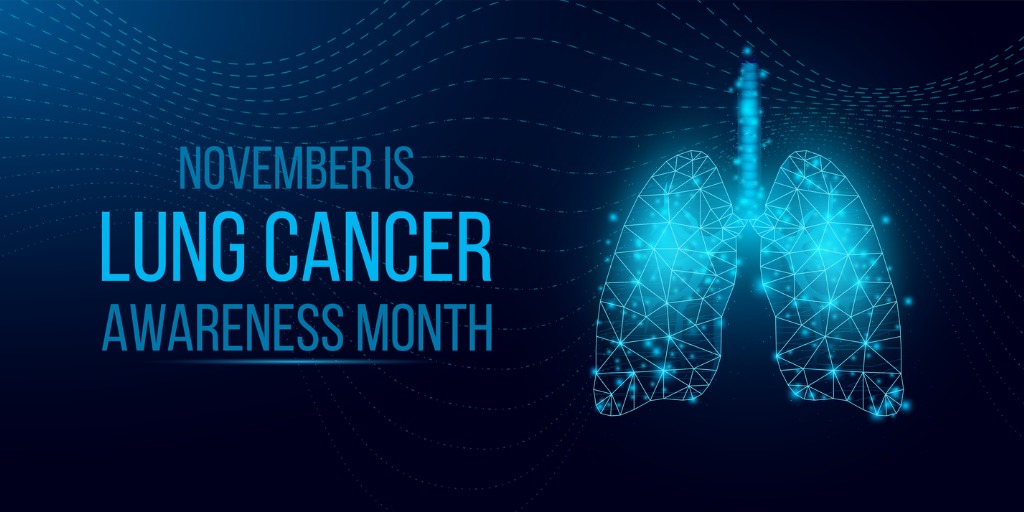 November is Lung Cancer Awareness Month (LCAM), an important time of year for the lung cancer community to unite to raise awareness, educate, and spread hope. We spoke with Andrew Ciupek, PhD, Senior Manager, Clinical Research; Rashmi Acharya, MS, Specialist, Science and Research; and Daniel Saez, MSc, Treatment and Trials Navigator – members of the LungMATCH Navigation Team at the GO2 Foundation for Lung Cancer – about all things LCAM, the latest developments in lung cancer research, and what excites them most about upcoming lung cancer clinical trials.
November is Lung Cancer Awareness Month. Why is recognizing lung cancer during this time so important?
Recognizing lung cancer is extremely important for a multitude of reasons. Lung cancer is the leading cause of cancer death in the US and has one of the lowest 5-year survival rates of any cancer. In addition, funding for research into lung cancer treatment and prevention is proportionally lower than other common cancer types such as breast or prostate. Another factor making LCAM important is the disproportionate number of veterans who are diagnosed with lung cancer every year.
How does the GO2 Foundation help build community during Lung Cancer Awareness Month, and all year round?
GO2 helps build community during LCAM through our in-person and virtual Shine A Light events. Shine a Light on Lung Cancer is the largest coordinated lung cancer awareness program in the United States. Hosted by healthcare facilities during LCAM (November), Shine a Light on Lung Cancer educates, connects, and celebrates lung cancer communities while raising awareness about the disease. Throughout the rest of the year, GO2 helps build community through our Living Room series, lung cancer registry, online patient and caregiver communities, and the one-on-one patient mentoring program Phone Buddies.
What kind of resources and support does GO2 offer?
GO2 Foundation offers resources for both patients and caregivers along the entire spectrum of the treatment journey for both non-small cell lung cancer and small cell lung cancer. GO2 has one-pagers and booklets for patients and caregivers looking for education ranging from diagnosis information, to targeted- and immunotherapy options, to side effect management.
In addition to free printed educational materials, GO2 can also help patients and caregivers with individual questions through our expertly staffed Helpline. By calling our Helpline, patients and caregivers are given the opportunity to ask questions that are specific to their own experience. For questions that are related to treatment or clinical trial matching, patients and caregivers are referred to a unique concierge-style navigation program called LungMATCH. Through LungMATCH, patients and caregivers are connected with a trained navigator to help translate science and medicine in a way that empowers treatment decisions and conversations with physicians.
In addition to these educational resources, GO2 offers patients and caregivers a way to give back to research by filling out surveys about their experience on the lung cancer registry. And for patients and caregivers who prefer audio-visual learning, GO2 offers a series of videos encompassing our print material as well as a monthly Living Room talk where expert speakers are invited to discuss a specific topic related to lung cancer. Patients and caregivers can access all of our free resources and services by calling the Helpline at 1-800-298-2436 or emailing us at support@go2foundation.org.
How can lung cancer patients, family members, loved ones, and advocates get involved with this year's Lung Cancer Awareness Month?
GO2 Foundation is powering the LCAM Coalition. Visit this page to find social media graphics to spread the word that lung cancer is the leading cause of cancer death and more research and awareness is needed.
What are the latest developments in lung cancer research?
We have been really excited to see research leading to the approval of multiple new targeted therapy and immunotherapy options for people with lung cancer. In the past year, we've seen the approval of new targeted therapy options for lung cancer with many different mutations, including for some that did not previously have a targeted therapy option (such as KRAS G12C and EGFR Exon 20). We now have targeted therapy options for 9 different mutations that can occur in lung cancer and we expect this list to keep growing.
We've also seen the first approvals of both a targeted therapy (for EGFR positive non-small cell lung cancer) and an immunotherapy (for non-small cell lung cancer with PDL1 ≥1%) as treatment to reduce the risk of early-stage lung cancer coming back after being removed by surgery. Immunotherapy and targeted therapies had previously only been treatments for late-stage lung cancer that was advanced or had spread to other parts of the body, meaning that now more patients than ever can benefit from these treatments. The great news is that lung cancer research continues to lead to the development of more treatment options for people with lung cancer than ever before.
What excites you most about upcoming lung cancer research and clinical trials?
In the coming years, we expect to understand more about mutations causing lung cancer and resistance mechanisms that can make therapies ineffective after a certain amount of time. We expect new treatments to develop that target these causes. There are multiple ongoing clinical trials in areas where resistance has become common (e.g., resistance to targeted therapy in patients with EGFR mutations).
There have been recent developments in the classification of small cell lung cancer into sub-groups based on the tumor characteristics. There is potential for development of clinical trials to evaluate treatments specifically designed for small cell lung cancer sub-types, which would change the way the disease is treated.
Applications of targeted therapy and immunotherapy drugs in early-stage cancers is an exciting future development as well. This can lead to longer survival in early-stage cancer.
There has been a gradual shift towards personalized treatment and care for lung cancer as we understand more about it, and as newer biomarkers and treatments become available. We expect this to continue in the future and we are excited to support our lung cancer community in understanding these developments.
---
Lung cancer research can only move forward with clinical trial volunteers. Interested in helping study teams advance the development of lung cancer treatments? Click the link below to see if you're eligible for a study.