Three ways to connect with your community if you have a rare disease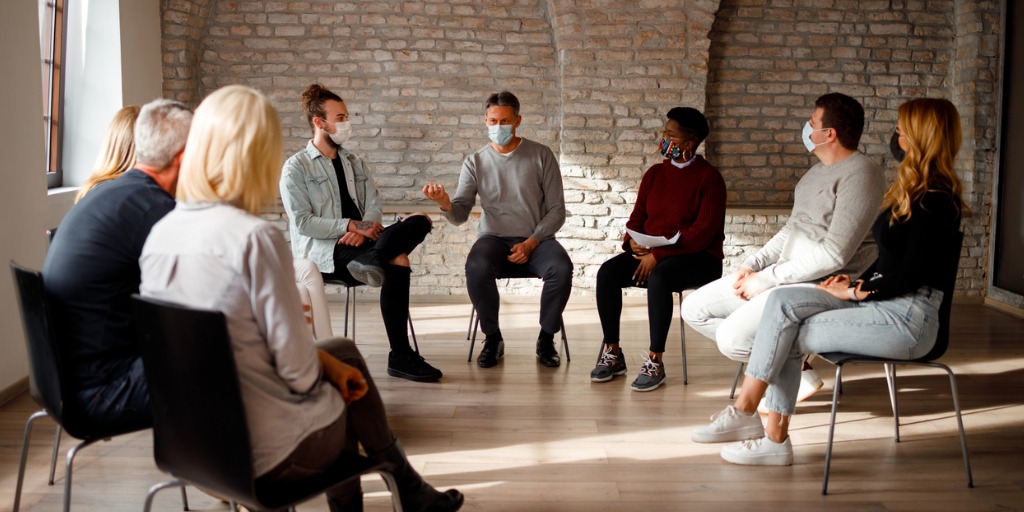 In the United States, there are an estimated 25-30 million individuals living with a rare disease, which is defined as a condition that affects fewer than 200,000 people in the US.
For the individuals living with one or more of the 7,000 (and counting) rare diseases out there, it can be difficult to find a community that understands what you're experiencing. And while experiences with diseases (common and rare) differ from person to person, there are a few ways most patients can connect with like-minded individuals. We share three different avenues to find resources that may resonate with you and the rest of the rare disease community.
Find and join Facebook groups
With many people spending their time at home, the digital space has become an extremely important way for people with rare diseases to connect to their communities.
Facebook "groups" are a great way for those who have been diagnosed with or are affected by rare diseases to meet others with similar experiences.
To be active in a Facebook group, you must have a Facebook account. Once you're logged in, click the "Search Facebook" bar and type in what you're looking for (start with "[Insert rare disease name] group." Under filters, click "Groups," and you'll see a list of potential groups that fit what you're looking for.
Here are a few examples of groups for various rare diseases:
Glycogen Storage Disease type 1a is a private group with just over 400 members that was created for information, sharing, and support, specifically for GSD type 1a. Moderators manage the membership, and it remains "a closed group" in an effort to maintain a safe, private space for discussion.
Wilson's Disease Survivors/Fighters Support Group is a private group founded by a Wilson's disease fighter/survivor whose mission is to educate the world about Wilson's disease and advocate for people with disabilities. This Facebook group has nearly 2,000 members and is all about being open with your feelings.
Myasthenia Gravis Support Group is a private group with about 6,000 members for all individuals living with myasthenia gravis, as well as their friends and family members looking for answers.
AutoImmune Hepatitis Support Group has over 7,000 active members and was founded by an AIH patient. The intent of this group is to help patients and their care partners find the support they need, friendship, and understanding during their journey.
The list of groups is seemingly endless, but if you can't find what you're looking for, consider creating your own!
Get connected with an advocacy group
Patient advocacy groups are a good place to look for community, information, and events. Awareness for rare conditions can be low, and many lack a disease organization or support group. However, these groups (where available) can be an invaluable resource to many.
These are a few examples of patient advocacy groups for rare conditions:
Wilson Disease Association: The WDA's mission is to provide support and hope to people impacted by Wilson disease worldwide, so that they may lead the best quality life possible. They share events, newsletters, stories, clinical trial opportunities, and other resources for the Wilson disease community.
PBCers: The PBCers Organizations' mission is to offer education and support to primary biliary cholangitis patients, as well as their family members and friends, and to raise funds to help research the causes and cure for PBC. They have local contacts and group meetings, with the aim of helping one another on their respective PBC journeys.
The Autoimmune Hepatitis Association: AIHA's mission is to "provide support and hope to patients and families affected by autoimmune hepatitis through disease education and provision of research opportunities." On their site, they offer listings of patient-preferred AIH doctors, AIHA webinars, links to relevant social media feeds, and a list of other helpful resources.
To find the right group for you, try searching Google (or whatever search engine you use) for your rare disease and keywords like "support group" or "advocacy group."
Sift through Reddit forums
Reddit is a website of message boards and sub-forums for specific topics. It's a great place to get support and answers, and to have discussions regarding any topic, especially rare diseases.
Here are a few examples of Reddit forums centered on rare diseases:
r/rarediseases is a community for people with rare diseases and those who want to know more about them.
r/autoimmunehepatitis is a place for Reditors with AIH to get support, answers, and have discussions regarding AIH.
r/MyastheniaGravis is a subreddit for all discussions, questions, and submissions regarding Myasthenia Gravis.
There are many ways to connect with others who have rare diseases (generally) and your rare disease (specifically). One additional way to support your community is by participating in clinical trials. Start your search today by clicking the link below.