Vaccine ready: Raising awareness for National Minority Health Month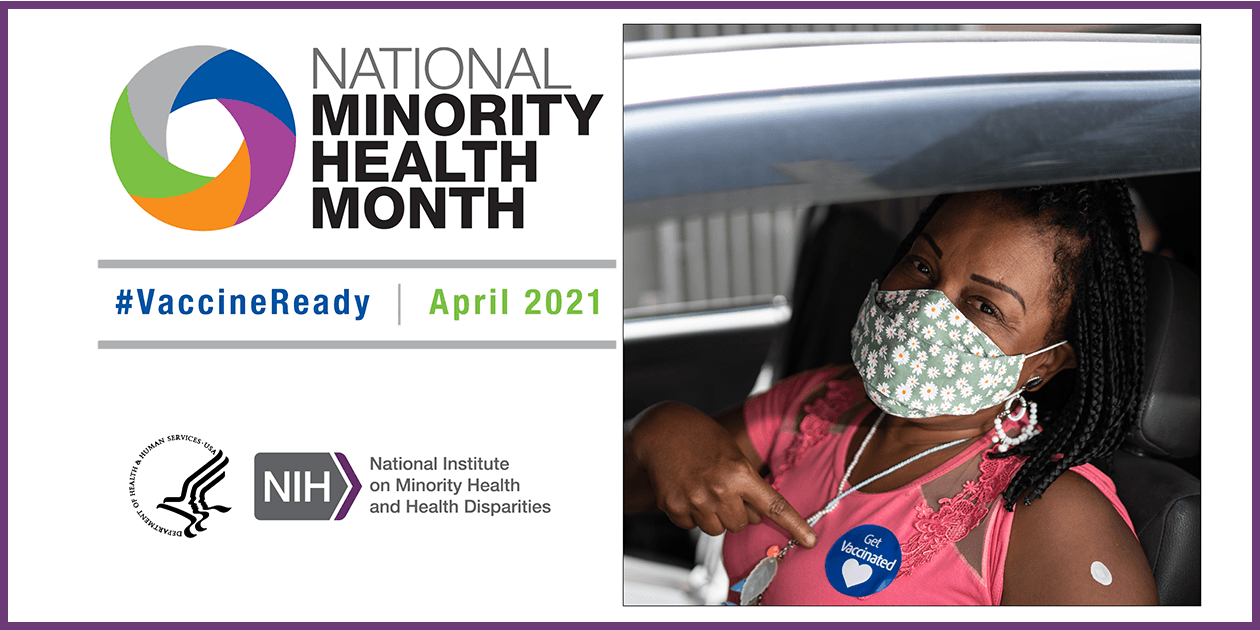 Healthcare equity for ethnic and racial minorities has been front and center in the media as of late. The COVID-19 pandemic illuminates some of the glaring issues that our healthcare system faces when it comes to the treatment of minority populations.
And while April is National Minority Health Month (NMHM), inequities in health impact minority communities in America each and every day. NMHM is a time to raise awareness about health disparities that continue to affect racial and ethnic minority populations and encourage action through health education, early detection, and control of disease complications.
In line with the rapid development of COVID-19 prevention options, the 2021 theme for NMHM is "Vaccine Ready." We look at the history of NMHM and why diversity in clinical trials for COVID-19 treatments and vaccines is not just important, but necessary.
The origin of National Minority Health Month
NMHM is celebrated every year in April with two main objectives:
Builds awareness about the disproportionate burden of premature death and illness in minority populations.
Encourages action for minority populations through health education (and health literacy), early detection, and control of disease complications.
National Minority Health Month was established in 1915 with the "National Negro Health Week", spearheaded by Booker T. Washington. In 2002, National Minority Health Month received support from the U.S. Congress with a resolution that stated and encouraged the following:
A National Minority Health and Health Disparities Month should be established to promote educational efforts on the health problems currently facing minority populations.
The Secretary of Health and Human Services should present public service announcements on health promotion and disease prevention among minority populations in the United States, and educate the public and health care professionals about health disparities.
The Agency for Healthcare Research and Quality should continue to collect and report data on health care access and utilization on patients by race, ethnicity, socioeconomic status, and, where possible, primary language to monitor progress toward the elimination of health care disparities.
The information gained should be disseminated to all health care professionals so that they may better communicate with all patients, regardless of race or ethnicity, without bias or prejudice.
Resources from the NIH's National Institute on Minority Health and Health Disparities to support NMHM can be found here, including activities, useful links, and a social media toolkit with copy and graphics for you to post. We encourage individuals and communities throughout the month to share why they are #VaccineReady.
#VaccineReady
We all want to get back to seeing the people we love in person and doing the things that make us happy. Vaccination against COVID-19 is a critically important tool to help us stop the spread of the virus and to bring this pandemic to an end. The #VaccineReady campaign encourages communities to practice COVID-19 safety measures, get the facts about COVID-19 vaccines, share accurate vaccine information, participate in clinical trials, and get vaccinated when the time comes.
The promise of clinical trials to find treatments and vaccines for COVID-19 is at the forefront of everyone's minds, and has given the public an appetite to learn more about clinical trials. Researchers around the world are crafting different types of COVID-19 vaccines in their labs. These vaccines are all trying to help people gain immunity to the virus, prevent severe (and fatal) symptoms, and stop transmission. The main types of COVID-19 vaccines currently available in the U.S. or in large-scale clinical trials include:
Messenger RNA (mRNA) vaccine: The first two emergency use authorized vaccines for COVID-19 were the Pfizer-BioNTech vaccine (2 shots, 21 days apart) and the Moderna vaccine (2 shots, 28 days apart), both of which use mRNA. These trials both had tens of thousands of participants, and the vaccines are considered safe and effective.
Vector vaccine: The third emergency use authorized vaccine for COVID-19 is the Janssen/Johnson & Johnson COVID-19 vaccine (one shot), a vector vaccine, is also considered safe and effective.
Protein subunit vaccine: These vaccines include only the parts of a virus that best stimulate your immune system. Although there haven't been any protein subunit vaccines given emergency use authorization yet, Novavax is currently working on a version.
We asked Clinical Ambassador's Allison Kalloo why diversity is especially important for COVID-19 vaccine and prevention trials. Kalloo emphatically says that "the disproportionate impact of COVID-19 on communities of color coupled with a hesitancy to trust the medical establishment makes this a health conundrum of epic proportions. Black and Brown people are at the highest risk of exposure to coronavirus often by virtue of having the largest proportion of jobs on the frontlines and as essential workers. These and other social determinants of health also result in higher rates of transmission, more severe cases, and higher mortality from coronavirus for people of color. Consequently, diverse racial/ethnic representation in COVID-19 vaccine trials is that much more crucial. It's important to know whether and to what extent drugs and vaccines affect different racial subgroups."
In regard to COVID-19 trials, the FDA has, broadly speaking, called for more intensive efforts to increase diversity in clinical trials, rising to meet the demand of COVID-19 vaccines. There have been reports of both Pfizer and Moderna being intentional about including more people of color in their trials, with Moderna even slowing down enrollment to allow more minority enrollment. Participation in clinical trials and agreeing to be vaccinated are the only viable ways we meet the urgent demands of this pandemic, and are the only solutions to addressing the underlying conditions that make COVID-19 an infamous example of health disparities.
Together, we are facing a truly unprecedented situation. COVID-19 research is urgent, and there is something we can all do to drive this research forward: participate in clinical trials. We've made the process of finding COVID-19 trials easy with our smart Match search engine. Start your search today, and help advance medical research for everyone.