What does it mean to be a family caregiver?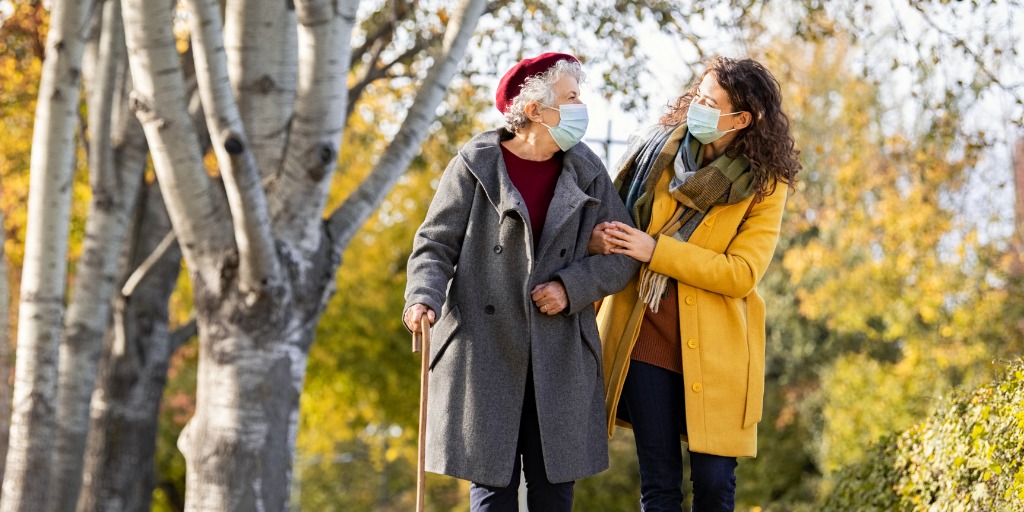 November is National Family Caregiver Month, a time to recognize and honor family caregivers across the country. This month is dedicated to the people who put others before themselves with the aim of ensuring that those who are sick, disabled, or elderly feel secure and cared for, often around the clock. We look at what it means to be a family caregiver and how you can help support caregivers.
What is a caregiver?
A caregiver can be many different types of people, and at some point in our lives, we'll all likely become one. Caregivers are daughters, sons, grandchildren, partners, parents, neighbors, and community members.
Family caregivers have many roles when caregiving for an aging, sick, or disabled adult. Their responsibilities may fit within these buckets:
Activities of daily living: Most family caregivers assist with the activities of daily living (ADLs) and instrumental activities of daily living (IADLs). ADLs include tasks related to personal care that is usually performed for oneself throughout the course of a normal day, including bathing, dressing, grooming, eating, walking, taking medications, making doctor's appointments, and other personal care activities. IADLs include activities related to independent living, such as preparing meals, managing finances, transportation, shopping for groceries, performing light or heavy housework, and using a telephone. Family caregivers are a pillar of emotional and physical support.
Medical tasks and care coordination: Family caregivers can perform simple healthcare duties at home, such as administering medications. For aging, sick, or disabled adults with severe illness, a family caregiver may manage medical devices, too. Symptom management and monitoring the senior's condition are also the family caregiver's responsibilities. Family caregivers will often find themselves coordinating care. This includes making doctor's appointments, accompanying the senior to the doctor's office, speaking to the doctor, ordering prescriptions, handling insurance claims, and transitioning to new care settings with different care teams.
Imperative decisions: Depending on the severity of the health of a senior requiring care, family caregivers will be responsible for making decisions on the senior's behalf. Several aspects can influence decision-making, including the senior's and family caregiver's values, preferences, abilities, goals, and perceptions. Living wills, power of attorney, and personal care agreements are used to ensure care recipients' preferences are being honored. At the heart of it, family caregivers are responsible for a senior's health and will need to make critical decisions.
National Family Caregiver Month
The observance of National Family Caregiver Month is spearheaded by Caregiver Action Network (CAN), a leading nonprofit that provides free education, peer support, and resources to family caregivers. Caregiver Action Network began promoting the national recognition of family caregivers in 1994. President Clinton signed the first NFC Month Presidential Proclamation in 1997, and every president since has followed suit by issuing an annual proclamation recognizing and honoring family caregivers each November. Read President Joseph R. Biden's 2021 proclamation here.
The 2021 theme, #CaregiverAnd, encourages family caregivers to celebrate the passions and interests that enrich their lives. #CaregiverAnd is all about the family caregiver. For many, the role as a family caregiver overshadows personal identity and emphasizes the care being provided for a loved one. It is critical, however, not to lose sight of who you are. This is an essential component of self-care that can potentially prevent caregiver burnout and depression. #CaregiverAnd highlights the other roles, activities, and passions that make up the caregiver's life. The #CaregiverAnd Twitter and Instagram feeds are full of inspiring caregiver stories.
If you're sharing any posts about family caregiving on social media this year, be sure to use the following hashtags:
#CaregiverAnd (CAN's official tag for this observance)
#RAISEcaregiving (Administration for Community Living's, or ACL, official tag for RAISE activities)
#NFCMonth (Annual observance hashtag)
#FamilyCaregiver (A larger conversation on family caregiving)
#Caregivers (Broadest conversation around caregiving)
CAN created a robust social media kit that you can use to make celebrating caregivers via your social media accounts easy. This kit includes everything you need: core messaging, images, and handles for National Family Caregivers Month, and commonly used hashtags. Click this link to make use of these great resources.
ACL is a proud observer of National Family Caregiver Month, but works year-round through programs and councils to engage, support, and empower caregivers. They have social graphics and relevant pieces of content here.
Mental Health America (MHA) released a mini toolkit to support caregivers with information and resources that can help them maintain their mental health and better serve loved ones with mental illness. Download the toolkit (and find many other helpful mental health resources) here.
Clinical trials and family caregivers
What happens when a loved one is involved in a clinical trial? As we match patients to trials for diseases like Alzheimer's disease and Parkinson's disease, we're becoming more and more aware of the caregiver perspective. Many trials require a care partner, who is also critical to the success of the clinical trial. Care partners in clinical trials may have the responsibility of:
Accompanying the patient to trial appointments
Ensuring medications are taken according to schedule
Watching carefully for any changes, such as symptom improvement or side effects
Keeping track of these changes in an organized way
Providing updates to researchers
Advocating for their loved ones by asking researchers to speak in patient- and caregiver-centered language
Clinical research can only move forward with volunteers. Local clinical trials are always looking for participants. See if you or your loved one is eligible to help advance scientific research: