What is Duchenne muscular dystrophy and where do you find support?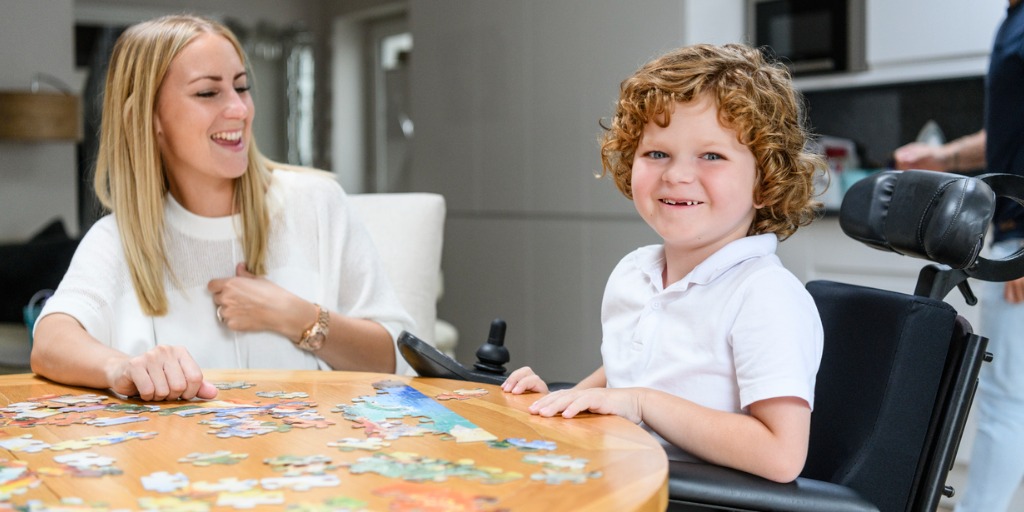 Duchenne muscular dystrophy (also referred to simply as "Duchenne") is a rare genetic disorder characterized by a progressive loss of muscle due to alterations of dystrophin, a protein that helps keep muscles intact. When dystrophin is altered or absent, muscles are not able to function properly.
Duchenne is a dystrophinopathy, which is one of two diagnoses, Duchenne and Becker muscular dystrophy. Becker muscular dystrophy occurs when dystrophin is manufactured, but not in the normal form or amount. It is less severe than Duchenne. Duchenne can affect many parts of the body, resulting in the deterioration of skeletal, heart, and lung muscles.
Duchenne symptoms typically become apparent in early childhood, usually in boys between the ages of 2 and 4 years old. Because the dystrophin gene is found on the X-chromosome, it primarily affects males. Females are typically carriers and some can exhibit mild physical symptoms, too. Duchenne affects approximately 1 out of every 5,000 live male births.
The most prominent symptom of Duchenne is muscle weakness. A child with Duchenne might have difficulty running, walking, and climbing stairs. Other symptoms include enlargement of the calves, walking with a waddle or on their toes, and a hard time lifting their head and neck. As Duchenne progresses, the heart and respiratory muscles are affected as well.
Until recently, individuals with Duchenne typically survived only into their teen years. However, thanks to improved care, clinical trials, and rigorous research, more people with Duchenne are living into their early 30s and beyond.
Not sure where to start the search for Duchenne support, or interested in learning more? Below, we map out where to find everything you need to know about Duchenne.
Where to find Duchenne muscular dystrophy support
You are not alone. There are active global Duchenne communities that host in-person and online support for families. Here are a few places to look for Duchenne support:
Parent Project Muscular Dystrophy (PPMD): PPMD's mission is to fight to end Duchenne. They do this by accelerating research, demanding optimal care for all families affected by Duchenne, advocating for policy shifts, and striving to ensure access to approved therapies. PPMD has:
Muscular Dystrophy Association (MDA):

MDA's goal is to create more hope and answers for families living with muscular dystrophy and related neuromuscular diseases that take away physical strength and mobility. MDA funds groundbreaking research for promising treatments and provide families with the highest quality care. Through MDA, you can:
Facebook groups: Facebook has a number of Duchenne awareness and support groups. Try checking these out:
Individuals with Duchenne and their families are needed to participate in clinical trials. The goal of clinical trials is to improve health and the quality of life for people with Duchenne. Boys with Duchenne may be eligible for a new study. Click the link below to learn more.