Why we recognize World Mental Health Day: A Q&A with NAMI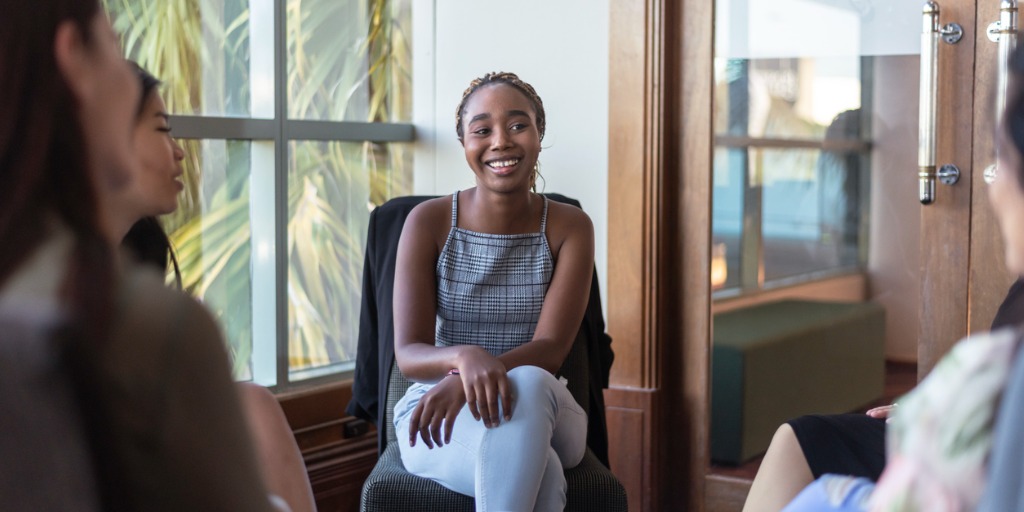 Millions of Americans are affected by mental illness every day, either directly or indirectly. Each year, our partners at the National Alliance on Mental Illness (NAMI) and people across the country raise awareness of mental illness, fight discrimination, and provide support through Mental Illness Awareness Week (MIAW). October 10th, the last day of MIAW, is World Mental Health Day.
We spoke with the team at NAMI about World Mental Health Day, resources available for people impacted by mental illness, support networks, awareness events, the importance of clinical research into mental health conditions, and what the mental health research landscape looks like.
Why do we recognize World Mental Health Day?
We recognize World Mental Health Day in an effort to bring attention and awareness to the millions of people in the U.S. who are affected by mental illness each year. It is so important to measure how common mental health conditions are, so we can understand the physical, social, and financial impact — and so we can show that no one is alone.
This year, World Mental Health Day also falls at the end of Mental Illness Awareness Week, originally established by Congress in 1990 as the first full week in October in recognition of NAMI's efforts to raise mental illness awareness. 1 in 5 U.S. adults experience mental illness each year, and 1 in 20 experience serious mental illness (SMI). Fewer than half get treatment. Awareness opportunities like World Mental Health Day and MIAW shed light on statistics like these as we work to improve access to quality care.
Throughout our 40-year history, NAMI has fought stigma and discrimination that marginalizes people with mental illness and poses barriers to their well-being. Particularly now, during the ongoing COVID-19 pandemic, care for our mental health is crucial. It's important to remember that there is no health without mental health. World Mental Health Day and MIAW are especially important as they encourage all of us to shine a light on mental health and the steps we can take to improve the lives of those with mental health conditions.
What resources are available for people impacted by mental illness, either directly or indirectly?
NAMI provides a wide range of incredible resources for those impacted by mental illness.
The NAMI HelpLine is available to those experiencing a mental health condition or their families. Our volunteers are working to answer questions, offer support and provide practical next steps. They are available from 10am-10pm ET at 1-800-950-NAMI (6264), info@nami.org, or by clicking "Chat with us" at www.nami.org/help.
If you are in crisis, text NAMI to 741-741, and a trained crisis counselor will connect with you to provide free, 24/7 crisis support via text message.
NAMI also provides support and education through free mental health education programs. Across the country, thousands of trained NAMI volunteers bring peer-led programs to a wide variety of community settings, from churches to schools to NAMI affiliates. Centering around the unique understanding of people with lived experience, these programs and support groups provide outstanding free education, skills training, and support. We invite everyone — those with a diagnosis, family members, young people, military service personnel and veterans, frontline professionals — to dive into a more complete list of resources on our Mental Health Education page.
The COVID-19 pandemic has made it increasingly important for people affected by mental illness to find support. What kinds of support networks are out there?
Through NAMI's support groups and other resources, NAMI seeks to support those in our communities experiencing mental health conditions. A full list of resources, information, and guidance is available through our COVID-19 Resource and Information Guide.
For those in jobs that are already demanding and stressful — like public safety and health care — the toll on mental health can be even heavier. NAMI has established the Frontline Wellness Initiative to meet the needs of our frontline professionals, with resources and support to help those who take care of us.
What kinds of awareness events and advocacy work does NAMI support?
NAMI participates in several annual mental health awareness events to show support for the millions of Americans impacted by mental health conditions. Participating in awareness events is a great way to help increase understanding of the complexity of mental illness. Through these events, we can dispel myths, educate the public and show support for the many people affected by mental health conditions:
May:

Mental Health Awareness Month
National Children's Mental Health Awareness Day

July:
Bebe Moore Campbell National Minority Mental Health Awareness Month, named in honor of the leading African American novelist and journalist
Suicide Prevention Awareness Month
Sept. 10: World Suicide Prevention Day
Mental Illness Awareness Week (MIAW), first full week of October
October 10: World Mental Health Day
NAMIWalks are also an excellent way for people to get involved at a local level. Typically, in October, NAMI State Organizations and Affiliates hold a walk (virtually for the past two years) where we can join together with the message of "Mental Health for All."
In terms of advocacy, NAMI stands on the front lines to improve the lives of people affected by mental health conditions. From the U.S. Capitol to state legislatures to local city councils, the NAMI Alliance uses the power of lived experience to encourage positive change in mental health policy — from health care to housing to criminalization.
NAMI is also committed to advancing efforts to reimagine crisis response in our country. We believe that every person in crisis, and their families, should receive a humane response that treats them with dignity and connects them to appropriate and timely care. In 2020, the nation took a significant step forward with the enactment of the National Suicide Hotline Designation Act, a bill NAMI advocated for that designated a nationwide three-digit number (988) to assist people experiencing a mental health or suicidal crisis. This number will launch across the country by July 2022.
Why is clinical research into mental health conditions important?
Research is an important component of NAMI's mission to build better lives for the nearly 60 million Americans affected by mental health conditions. Because mental health conditions are so complex and affect people in so many ways, there are also many ways that research can help advance our understanding. Some of the most promising clinical studies in recent years have focused on advancing brain science, understanding biomarkers and genetics, and using technology that becomes more advanced every year to improve our understanding of how mental health conditions begin, how we can track symptoms, and how we can more effectively identify and treat them. Every clinical trial contributes to advancing scientific knowledge and helping people in the future.
While NAMI rarely conducts original studies of our own, we frequently partner with government, academic, or private industry researchers to support person-centered research guided by the values and needs of our community. This has been a major area of growth for us in recent years and reflects a growing recognition among clinical researchers that the way they design studies, communicate with participants, and apply their findings all require input from the people they are intending to serve. And that NAMI is a trusted voice in the mental health community.
NAMI also advocates that any research involving human subjects must be in accordance with the highest scientific, medical, and ethical standards. This is necessary to protect the individuals and families who contribute to scientific progress by participating in clinical trials. There are several government and private industry organizations that are dedicated to protecting the rights and safety of scientific study and clinical trial volunteers. We encourage people seeking more information to review NAMI's views on participating in research.
What does the mental health research landscape look like? Are you particularly excited by any interventions in the pipeline?
NAMI conducted a major Mood Disorder Survey with the Harris Poll in early 2021 to understand more about the barriers people face seeking help for mood disorders. Mood disorders are a common type of mental illness and include bipolar disorder, major depressive disorder, and others. The results from the survey revealed that the cost of treatment and access to quality, affordable care, along with stigma, are the most significant barriers to seeking care. In fact, 84% of adults agreed that stigma is a major barrier to people accessing treatment for mood disorders, and 87% believe that mood disorders — if left untreated — have significant economic and social impacts.
At the same time, while the ongoing COVID-19 pandemic has posed new mental health challenges for many of us, it has also increased acceptance of mental health conditions, with more than half of all adults (52%) saying they have been more open with others about their mental health since the pandemic began.
Overall, the results of the survey highlight that, as NAMI CEO Dan Gillison Jr. noted, "The status quo is unacceptable, and we must do better for people with mood disorders through a holistic approach that recognizes that there is no health without mental health." We encourage all people with mood disorders, their families, and caretakers, to review the results of the study to broaden their understanding of the current state of mood disorders, the impact of stigma, and the importance of expanding access to care.
Finally, while NAMI supports the research crucial to the advancement of treatment for mental health conditions, NAMI does not endorse any particular interventions. However, NAMI is proud to recognize individual researchers who move our scientific understanding and treatment of mental illness forward through our annual Inspiring Hope Through Research Award. Supported by the Peter Corbin Kohn Endowment, NAMI has honored leaders in scientific research since 2005.
---
Interested in helping accelerate mental health research? Click the "Match me" button below to search for local clinical trial participation opportunities.