7 Factors that Impact Patient Recruitment
For patients, joining a clinical trial is a significant decision. Before signing up, it's important to consider everything from how easy it is to get to the site location, to whether or not the goal resonates.
From the perspective of a clinical trial sponsor, this decision-making process can seem opaque. That's why Antidote asked nearly 4,000 patients about their views on participating in clinical trials. We share the details on our findings in our whitepapers, but the elements that influence patient decision making typically fall into three buckets: protocol, site performance, and communication.
Factors that impact patient recruitment can include:
Eligibility criteria
Patient need
Site locations
Patient follow-up services
Seasonality
Patient recruitment resources
Messaging materials
Successful patient recruitment starts with designing a trial that reflects patient needs – and requires keeping the patient perspective in mind from end-to-end. Below, we'll share how you can optimize your trial for the factors that impact patient recruitment at every step.
Protocol-related factors:
1. Eligibility criteria. Overly-stringent eligibility criteria can make it more difficult to find qualified patients for your study. When analyzing your eligibility criteria, identify and remove items that are unnecessary to the safety of participants, or that aren't related to answering the primary research questions.
Challenging eligibility criteria can also reduce diverse participation in your trial. In June 2019, the FDA released draft guidance outlining how researchers may be able to increase the diversity of clinical trial populations, including by broadening eligibility criteria.
For example, the FDA guidance notes that some common exclusions have less scientific backing, such as excluding those at extremes of the weight range, those with organ dysfunction, and those with HIV. The FDA recommends broadening these eligibility criteria, when appropriate, to reach a more diverse patient population.
The FDA also suggests moderating exclusion criteria that may be scientifically sound, but too broad. For example, in a heart disease study, while those with severe heart failure may be excluded, those with more mild disease may be able to participate.
If it's not too late to make adjustments to your protocol, consider taking this step before starting recruitment, or requesting a protocol amendment.
2. Patient need. Does your clinical trial address symptoms or challenges that are meaningful to patients – and will improvements be captured as endpoints?
In our research, we found that patients are very interested in knowing the goal of a clinical trial, and preferred certain types of goals over others. Overall, our survey respondents were most interested in clinical trials researching a cure for their condition or a new treatment option, and were less interested in trials researching treatments for side effects other existing medications.
Frequency of respondents who answered "likely" or "very likely" to partake in the specified type of trial by demographic categories, and odds ratios of responses by demographic information (referent group indicated as "Ref.").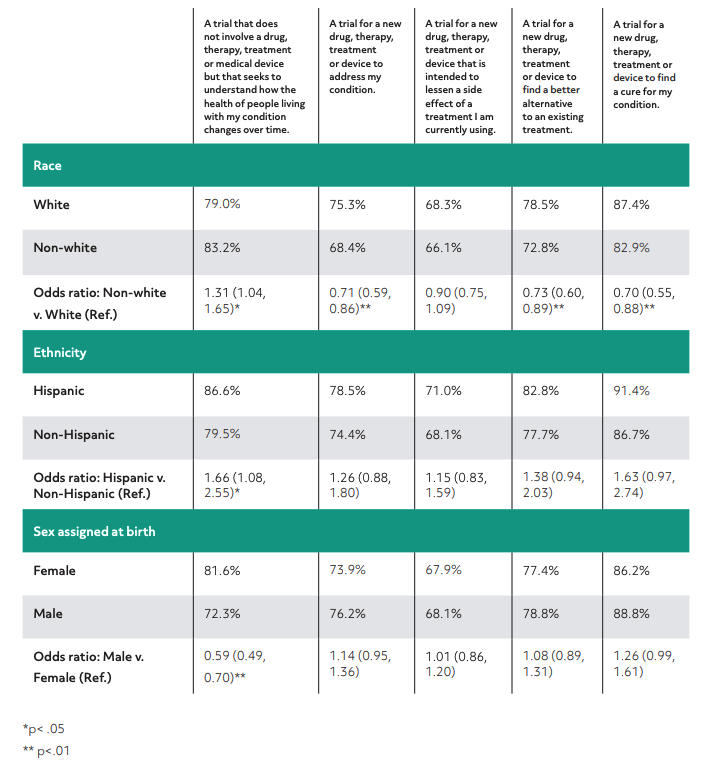 Before launching your trial, your patient recruitment strategists should consider whether or not the trial meets patient needs. If it doesn't, you may want to reexamine your protocol. Assuming it does, the next step is to consider how to communicate that goal to patients. While scientific endpoints are important, consider highlighting the quality-of-life goals for the trial that may resonate with patients more.
If trial endpoints can't be easily amended after a trial launches, consider addressing additional ways the trial may appeal to patient need. Benefits of taking part may include accessing an expert in their condition area, or the opportunity to help science in a meaningful way.
Site-related factors:
3. Site locations. Trial sponsors know that it's important to choose sites that already have relationships with patients in the condition area, and that are located in an area with a significant patient population.
This may be simple enough in urban areas – though there's always the challenge of parking and traffic – but can become more difficult when dealing with rural areas or patient populations with less access to transportation.
In our research, we found that in general, logistical benefits aren't as important to patients overall as other factors. However, these accommodations were more important to patients who historically have been less likely to participate in research: people of color and low-income participants. Our research suggests that offering transportation support or virtual site visits may be more valuable for some site locations than others.
Count and frequency by race and ethnicity of respondents who answered "likely" or "very likely" to the question: If you were considering taking part in a clinical trial, how important would the following be to you? (Please note: Non-white and non-Hispanic individuals served as the referent group for statistical analysis.)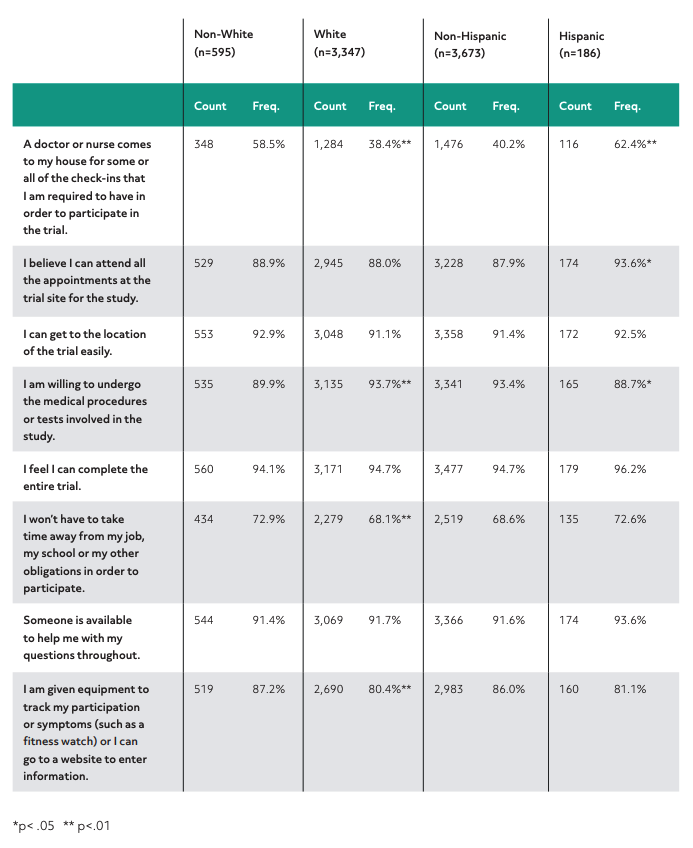 Clinical trials for condition areas with a smaller patient population in general, such as rare diseases, are also more likely to benefit from transportation services and support.

4. Patient follow-up services. Location isn't the only factor that can impact site performance. Even if a site is in the ideal location, inexperienced staff or poor training can still slow the patient recruitment process. Before starting recruitment, ask sites what would help them be successful in their efforts. Working with a patient recruitment company that helps reduce the burden on sites by offering their own follow-up services to reach out to patients can help.

5. Seasonality. This factor can refer both to weather patterns at specific site locations, as well as to seasonal events such as holidays. Symptoms may also worsen for some conditions during different times of the year – for example, asthma during allergy season, or lupus rashes during the summer. When creating a patient recruitment plan, account for seasonal dips in enrollment.

Communication-related factors:

6. Patient recruitment resources. Before launching your clinical trial, ensure that you've budgeted funds enough to reach your goals.

Use a clinical trial recruitment rate calculator to estimate how many patients should come from each site per month. Then, consider what support sites will need to reach those numbers.

At Antidote, we've found that including patient recruitment services early on in your trial can ultimately help reduce costs over the course of a clinical trial, as opposed to only invoking "rescue" support.

7. Messaging materials. Even the most easily accessible, well-designed clinical trial will have trouble reaching enough patients without engaging outreach materials.


Before choosing a patient recruitment agency, consider asking to see successful outreach materials they've created in the past. The best advertisements capture the patient experience and highlight benefits and goals that resonate with your patient population. Outreach materials, when used strategically, can help assuage several of the challenges included in this list by highlighting the benefits of taking part.

Want to learn more about how targeted recruitment plans can lead to time-savings results? Download our patient recruitment case studies.