Why Volunteer for Research Studies?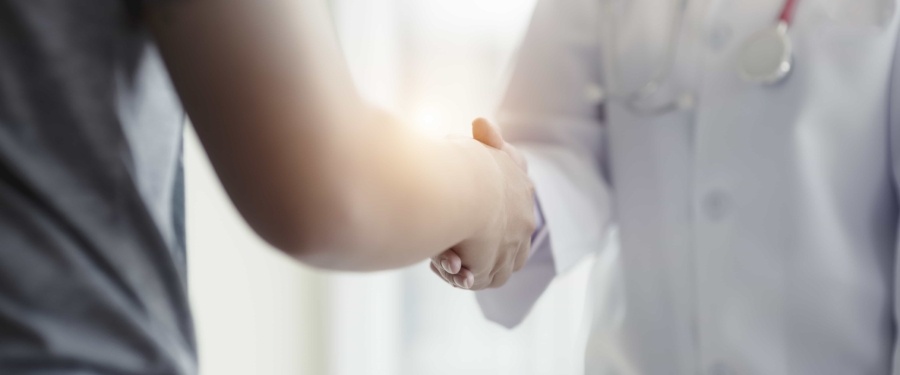 Research study participants are patients or healthy volunteers who take part in trials investigating potential new disease treatments. If you've never participated in a trial, you may wonder what the potential risks and benefits are of taking part.
There are several reasons to consider participating in research studies, from accessing the latest treatment options to helping move research forward. Participants weigh these benefits against potential risks and learn as much about a trial as they can before making their decision.
If you're considering joining a clinical trial but aren't sure where to start, consider these five common motivators for participating in research. Read on to learn about how to find a clinical trial and the facts behind common clinical trial myths and misconceptions, too.
Reason 1: Access to potential new treatments
Clinical trials investigate potential new treatments. That doesn't just mean medications; trials also explore lifestyle changes like diet and exercise, alternative therapies like massage and mindfulness, and new medical devices, too. For those whose symptoms aren't well managed on their current treatments, accessing a new option can make a real difference.
For Michelle Schienle, who blogs at Crohnically Blonde, participating in a trial allowed her to go back to work after her Crohn's disease diagnosis. "Before I started taking these experimental drugs, I was at this point where I couldn't work, I couldn't do anything," she said. A combination of those drugs alone with established treatments, she said is now able to be a "functioning member of society again."
Why are you thankful for research? - Michelle from Antidote Technologies on Vimeo.
FDA-approved technologies can also help improve quality of life.
"I'm super grateful for advances in medical technology, just that small things like being able to see my blood sugar right there on my phone all the time, is just tremendously helpful for somebody like me," said Christel Groenning Oerum, who blogs at Diabetes Strong.
Why are you thankful for research? - Christel from Antidote Technologies on Vimeo.
Reason 2: Help everyone living with your condition
Knowing that you're making a difference for others living with your condition, as well as future generations, can be motivating.
"Research gives patients living with chronic illnesses more options to do the things they want with their lives," said Mariah Lache of Mamas Facing Forward. "I'm currently pregnant with baby number three, and just in the past five years, the research has changed so much that I have far more treatment options during this pregnancy than I did during my first pregnancy, which is making it a lot easier for me to get through and to have the family that I want to have."
Why are you thankful for research? - Mariah from Antidote Technologies on Vimeo.
Some clinical trial participants feel motivated to get involved on behalf of future generations. It takes about 12 years for an experimental drug to make it from the lab to pharmacy shelves. It's a long process that needs volunteers to ensure timelines don't become even longer.
Schienle of Crohnically Blonde is grateful that if her future children live with Crohn's or similar condition, she believes they will have access to better treatments thanks to research progress. "I feel good saying that I believe that people are really making the effort to improve the lives of those who are next to come in the next generation," she said.
Reason 3: Access better care
Clinical trial participants often receive extra attention than at a normal doctor's appointment. You may be able to skip the waiting room, and have time for additional questions about the study and other medical questions you may have.
Research is generally also conducted at top research universities and facilities, so you'll often receive care from physicians who are leaders in their field.
Depending on where you live, your own doctor may not have much experience with your condition if you live with a rare disease. If you join a clinical trial for your condition, you'll be working with researchers and physicians who are likely experts in your condition.
Reason 4: Volunteering is an option for those with rare diseases, or if you've run out of treatment options.
For some research study volunteers, clinical trials offer a treatment option where none existed before. Those with rare diseases sometimes have very few treatment options beyond those currently being explored in clinical trials.
Kimberly Burnette of Beyond Adrenal Disease says she represents both the rare disease community and the mental illness community, and research has played an important role in both. "In both of those communities, we would be lost without research," she said. "Research is the light to our darkness and it gives us hope."
Why are you thankful for research? - Kim B. from Antidote Technologies on Vimeo.
For some with conditions like late stage cancer, research can also be an opportunity after other treatment options have unfortunately been exhausted. For anyone with a chronic disease, if your standard treatment isn't working well for you, a clinical trial could be an option that helps.
Reason 5: You may earn compensation
You may have heard that you can sometimes earn compensation for participating in clinical trials. Paid clinical trials are usually Phase I trials that are testing potential new treatments for safety, not yet for effectiveness against symptoms.
Even for trials that don't offer compensation for your time, some trials will reimburse your travel expenses or child care costs. Ask any questions you have about compensation at your trial intake session before making the decision to sign up.
How to find a clinical trial
If you're interested in finding a clinical trial, you can find listings for all trials on ClinicalTrials.gov, or use a search tool like Antidote's to help narrow your search by your particular location, condition and other details.
To use Antidote's patient-friendly clinical trial search tool, follow these steps:
Enter your basic information and what condition you're looking for trials for in the Antidote search box.
Next, the tool will ask you how far you're willing to travel for a travel. The larger mile radius you choose, the more trial results you'll receive.
Answer a few questions about your medical history to help the tool find a trial that's a close fit for you.
When you get your trial results, click into a trial to learn more about it. You'll see whether the trial is interventional (a potential new treatment is being tested) or observational (there is not a treatment being tested). You'll also see which clinical trial phase the trial is. Basically, Phase I trials test for safety, Phase II evaluate safety and effectiveness with a few hundred participants, and Phase III studies test safety and effectiveness for a few hundred to a few thousand participants.
When you're ready to contact the study site to learn more and see if you may qualify, click into the study site closest to you to email yourself information about the trial and find the study site's contact information. You can also use this information to discuss the trial opportunity with your doctor to make sure it won't conflict with your current treatment.
You should hear back from the study site in a few days. Over the phone, they'll ask you additional questions about yourself and if it sounds like you may qualify, you'll be invited to the study site for additional screening.
At the study site, you'll most likely be given a physical and answer more questions about your medical history so the study team can determine if you're the right fit for the study. You'll also have the opportunity to ask any questions you have about the trial. Depending on how many tests are part of the trial, you may be asked to visit the study site more than once.
If the you and the study team decide that the trial is a match, the next step is to sign an informed consent form. This document outlines all details about the trial.
Even after you sign an informed consent, you can still leave the trial at any time.
Myths and misconceptions about joining a clinical trial
Myth: There's a high chance that I'll get a placebo if I join a clinical trial.
Fact: Some trials measure the effects of a potential new treatment against a placebo, which is a medication that doesn't have any effect. Not all trials use a placebo, though -- some trials measure the effectiveness of a study drug against existing treatments.
Myth: There aren't any protections in place for clinical trial volunteers.
Fact: All clinical trials have a few different steps in place to protect patients. To start, a trial's protocol and other materials are all approved by an Institutional Review Board (IRB) to ensure trials are ethical and protect patients' rights. In addition, the FDA reviews trials before patient volunteers are able to enroll.
Before joining a clinical trial, participants must sign an informed consent form. This form outlines all details about the trial. The study team will take potential participants through the form and answer all questions before the patient signs on.
Myth: I'll be treated like a guinea pig.
Fact: It can be scary to try a potential new treatment that has not yet been approved by the FDA. Potential new treatments are tested in the lab before they reach clinical trials, and if you participate in a Phase II or Phase III study, the treatment has already been through some safety testing. There is always risk involved in participating in a clinical trial, but you are also free to leave the trial at any time, for any reason. Before joining a clinical trial, patients must also sign an informed consent form, which outlines all details about the trial to make sure patients don't have any unanswered questions before signing on.
Myth: I'm too far along in my condition to join a clinical trial.
Fact: Clinical trials need volunteers at various disease stages to evaluate different treatments. In fact, some trials may require you to have been diagnosed with a particular condition for a certain amount of time in order to qualify, or require that you've already tried certain medications and did not find them effective.
For people with cancer, clinical trials may offer experimental treatment options for those in later disease stages. Regardless of how long you've had your diagnosis, a clinical trial can be an opportunity to access better treatment.
Myth: I have a rare disease, so there aren't any trials for me.
Fact: There are active clinical trials looking for participants living with rare diseases. For some rare diseases, a clinical trial may be one of just a few treatment options. Rare disease clinical trials may also be more likely to pay for travel expenses and other costs than trials for other conditions.
Myth: I'll never hear about the results from the trial.
Fact: If you participate in a clinical trial, it's natural to wonder about the results at the end of the trial and what steps the researchers will be taking next. Before signing up for the trial, ask the study team what their protocol is for sharing trial results afterward. The results from many trials are published in academic journals, so there may be some delay in finding the results of your trial.
Myth: My doctor will tell me if there are any clinical trials that I qualify for.
Fact: While it is important to talk about a clinical trial you're interested in with your doctor, your doctor may not know about all clinical trial opportunities that are available. When you search for a clinical trial on your own using ClinicalTrials.gov or a tool like Antidote, you can take a look at all trials in your area that you may qualify for, and choose which ones you'd like to learn more about.
Myth: Clinical trial participation isn't covered by medical insurance.
Fact: Most clinical trial volunteers don't have to pay out-of-pocket costs to take part. Generally, the cost of care is covered by the clinical trial. Travel expenses may be covered, as well. Most insurance providers cover the office visits and tests that are part of clinical trials, but ask the study site about what pieces you would be expected to cover before you sign on.
Ready to find research studies near you? Start searching by clicking "match me" below!