Webinar recap: Lung Cancer Initiative webinar featuring Rich Towne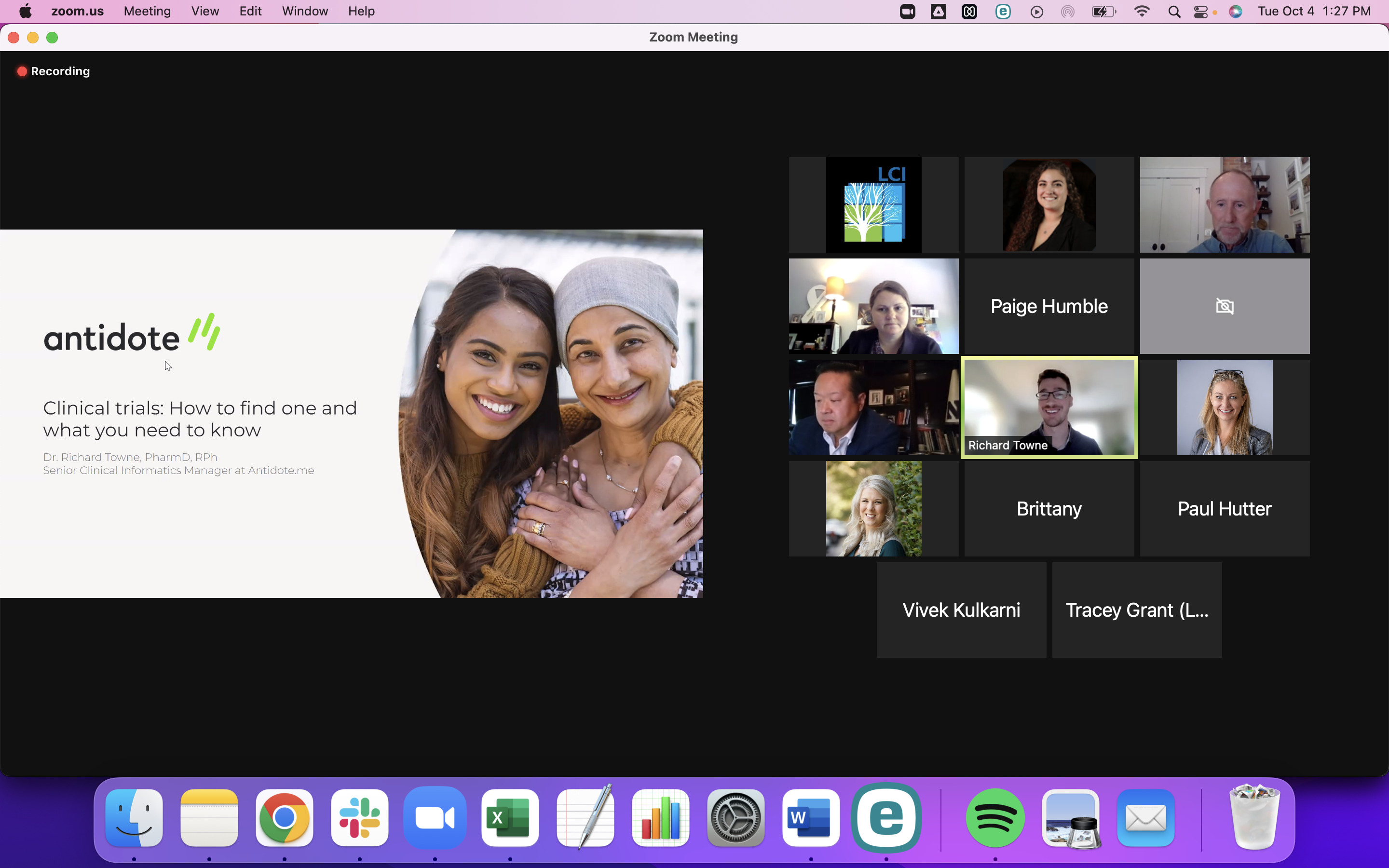 On October 4, Antidote's Senior Clinical Informatics Manager Dr. Rich Towne participated in a community education webinar for the North Carolina chapter of Lung Cancer Initiative. This webinar was aimed at educating lung cancer patients and professionals in the lung cancer industry on clinical trials and recent advancements in the field.
Rich spoke about the history of clinical trials, discussed the types of medical research that exist, and gave patients resources for where they could find study opportunities they may be eligible for, including clinicaltrials.gov and Antidote's Match tool. He also demonstrated an example of a journey through the Match patient flow curated for lung cancer patients.
In addition to Rich's presentation, Dr. Edward Kim, MD, MBA discussed the recent advancements and opportunities in the clinical trial and drug technology space. He advocated for an in-depth look at clinical trial inclusion and exclusion criteria for lung cancer patients and discussed how clinical trials could be more inclusive to better reflect real-world conditions.
The webinar featured a patient perspective by obtaining insight from lung cancer survivor Paul Hutter. Paul was an otherwise healthy, young patient when he was diagnosed, and though he was interested in clinical trials, his first two oncologists did not encourage him to pursue them. After striking out on his own and finding a study, Paul discovered a treatment that was a good fit and is now a survivor.
If you'd like to watch the presentations, the full webinar has been posted to the Lung Cancer Initiative YouTube. For patients who are interested in participating in a clinical trial, having a central place to view potential studies can make the search process much easier. To access Antidote's Match tool and see what you may be eligible for, click the button below.