How to Run Effective Clinical Trial Advertising Tests

In clinical trial advertising, running tests to find your most successful ads is one of the best ways to improve your campaigns. But it's also easy to set up tests incorrectly and skew your results. Follow these tips to create effective tests that give you valuable information about the best way to reach your audience.
Step 1: Choose one factor to test at a time.
You may have several different ideas that you're interested in exploring through your ad tests – but don't test them all at once. When you're setting up a test, it's important to choose one factor at a time that you're interested in learning about. For example, if you want to discover which Facebook audience segment is responding the best to your ads, use the same ad copy.
Sometimes, it may make more sense to use different copy for each audience, particularly if you're dividing your campaigns by age or other demographic factors and want to choose language and imagery that reflects them. In that case, experiment within the audience ad set with variations on your ad copy or image choices.
If you really want to learn something specific about a piece of ad copy, isolate just one piece of your ad. For example, you can test different Facebook headlines against each other while leaving the other elements of your post (status update, image, link description, CTA button) the same.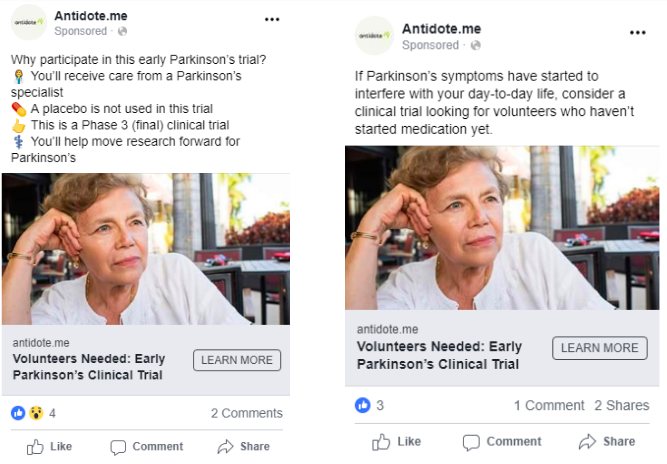 You can also run tests for email campaigns. Subject line tests are useful for understanding messaging that inspires patients to open your email. In the body of the email, you can test out whether buttons or linked text leads to more click throughs to your landing page.
Step 2: Choose a goal.
Figure out by what criteria you'll choose the winner of your test. Click-through rate is one option if you're interested in seeing what kind of content performs best at grabbing your audience's attention. You can also choose the ad that receives the most form submissions, if you're driving patients to a form. If you have the tech skills, or someone to help, you can also set up Facebook and other campaigns to optimize your ads based on conversions which you choose. That feature allows Facebook to choose your most successful ad based on criteria you choose, rather than just on clicks.
The same rules apply if you're trying to figure out how to improve a campaign that you've already run. Let's say your last email campaign didn't perform as well as you had planned.
Remember that factors like time of day and day of the week can potentially make a difference in your ad performance, too. When possible, run tests at around the same time. If you're curious, you can also test whether sending emails at different times of day makes a difference in their performance.
Step 3: Measure your results – and make sure they're statistically significant.
Before choosing a winner of your test, make sure your results are statistically significant. If you end the campaign too early, then you can't be sure what you've learned will be repeated for a future campaign. Some marketing tools and advertising platforms will let you know within the tool which test performed best. You can also use a statistical significance calculator like the one offered by Neil Patel and plug your numbers in there to find out your winner.
Step 4: Re-evaluate your winners as your trial moves forward.
In the beginning of your campaign, it makes sense to judge the performance of an ad by number of link clicks or form submissions, for example. As your trial moves forward, you'll get a better understanding of which patient contacts ultimately join your trial. You may find that ads that won your test in terms of submissions or click throughs don't perform as well when it comes to conversion later down the road.
The decision to participate in a clinical trial is very individual, and it can be difficult to pull out exactly what factors may have influenced a patient. But if you find that patient leads from a particular ad have a tendency not to answer calls or emails about your trial, those are signs that there may something off with your targeting or messaging in your ad.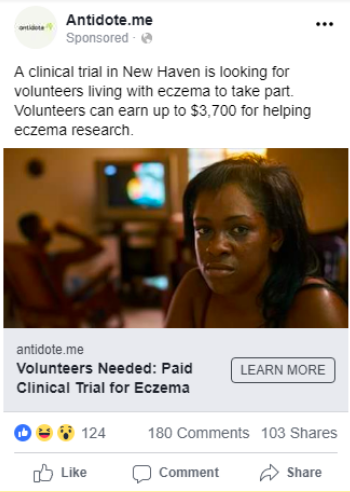 In the above example , the ad had the lowest cost-per-click, but none of those who signed up from the ad were eligible to participate in the trial.
At this point, you can consider choosing a different winner from the one you originally selected. You may also choose to start a new test, and begin the process all over again. Even if a test doesn't work out the way you expected, it's always useful to learn something new about your audience.
Looking for more clinical trial advertising advice? Download our free e-book for 18 pages worth of recommendations.