Reflections from the Antidote team for Clinical Trials Day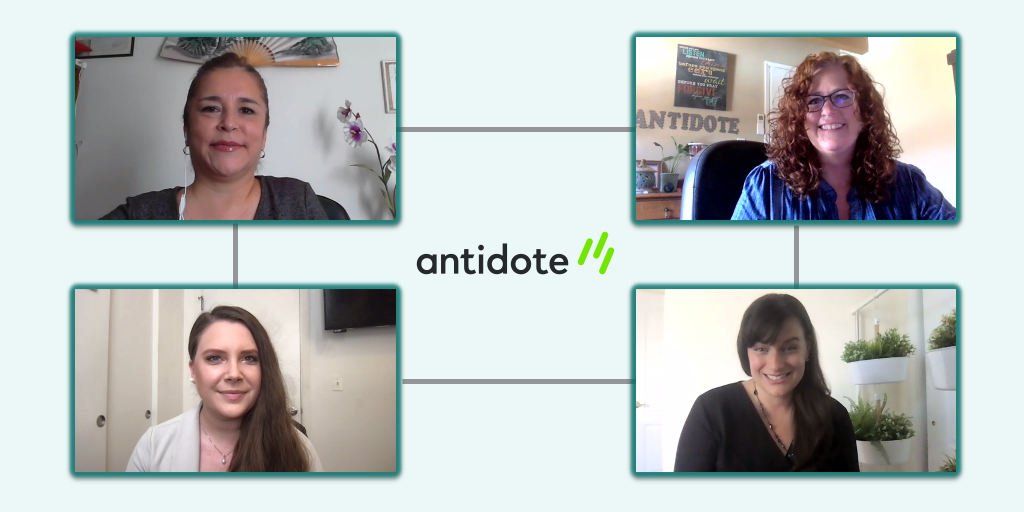 "Clinical Trials Day," celebrated annually on May 20th, is a day to recognize both the people who conduct clinical trials and those who take part — and to give gratitude for what they do to improve public health.
At Antidote, every day is a clinical trials day. This year, we're featuring reflections from our team members who are on the front lines of patient, site, and advocate interaction. At Antidote, Lauren Schill is the Clinical Site Operations Manager; Lindsey Wahlstrom-Edwards is the Head of Partnerships and Patient Advocacy; Juline Hobbs is the Senior Manager of Operations and Patient Experience, and Silvia Fuentevilla is the Study Site and Patient Liaison Manager.
This day of celebration provides us with a unique opportunity to raise awareness of clinical trials among the greater public, and to reflect on the work we do here at Antidote.
Why do you work at Antidote?
Lindsey Wahlstrom-Edwards: I joined Antidote to help solve the problem of clinical trials recruitment. I've stayed for six years because of the partners I work with. I am continually inspired by their dedication and contributions to the individuals they serve and I'm proud to be a small part of the solution.
Juline Hobbs: Antidote's core values really speak to me. I enjoy working with others who are also passionate and enthusiastic about our mission to bridge the gap between patients and researchers. Patients are looking for alternative treatments and want to assist in finding potential new ones. Antidote really appreciates the hard work and dedication of its employees, too. We have a lot of fun together doing what we do and celebrating our successes! It's really a family to me!
Silvia Fuentevilla: I love working with a great team that cares about the impact of our work on the lives of many people. We all want to help patients and their families find the clinical trial opportunities they need.
Lauren Schill: I have a background in clinical trials, clinical research, and precision medicine. I wanted to stay within the clinical trial realm and found my home here at Antidote. I'm able to support clinical research on a broader level and continue to make an impact on the industry through a passionate, supportive, and encouraging company.
Why is connecting patients with clinical trials and research studies important to you?
Lindsey Wahlstrom-Edwards: Equitable access to quality health care, in general, is an issue I care deeply about, and access to clinical trials is a piece of that issue. Clinical trials help people connect with new potential treatments that could dramatically improve their quality and quantity of life. Everyone should have the ability to participate in research.
Juline Hobbs: Clinical trials allow us to find new treatments that might lift the burden of an individual's illness or condition. I have spoken with many patients who have lived a very hard life and often just need to find an alternative to their current treatment plan that's just not working for them. The faster that we can assist pharmaceutical or academic sponsors in filling their trials, the faster we can find potential treatment options that might lift that burden off of the patients and their families.
Silvia Fuentevilla: It is important to me because, in many cases, connecting people with clinical trials is bringing them hope; it's helping them to find treatments when they may not have other options available.
Lauren Schill: During my time running hematology-oncology clinical trials, I experienced first-hand the challenges of finding participants who fit the criteria for the studies. Lack of eligible participants can delay the approval of new treatments by months or years. On the other hand, there are people out there looking for a trial that can help them, as studies are on the forefront of medicine and offer the potential for better treatments. Connecting research sites with potential participants solves two problems at once — people deserve to be able to consider every option available to them.
What is a positive moment that has stuck with you while working at Antidote?
Lindsey Wahlstrom-Edwards: I'll never forget June 30th, 2016, which was the day before we launched Match, our clinical trial matching tool. I spent the day in our partner JDRF's office so individual members of their team could test and sign-off on the product prior to the July 1 launch date. The feedback was so positive and, after launch, so many members of their T1D community searched for trials in a single day that they crashed our website. I spent a year living in hypothetical scenarios. At that moment, I knew that we were on to something.
Juline Hobbs: I have had many moments that have been special to me. Patients often open up during the screening process on the phone and even share tidbits with us from their personal lives. One of my favorite things is to find a way to connect to patients, letting them know they are more than just another referral. They have families and loved ones who are also affected by their condition and care about their quality of life, and I want to make sure that they know that we care.
Some of my favorite moments here at Antidote have been being able to be involved in creating special videos that are on our website. Two patients really made a huge impact on me here at Antidote: Nina and Eric. Nina, a stage 4 lung cancer patient, shared her story with us about how she found a clinical trial that saved her life. Her career was based around art therapy and it was a pleasure to spend the evening with her at her home in New York, discussing some of the challenges she faced and how she overcame them through her art! Eric was another patient that I enjoyed meeting as well. Eric had ALS and was one of the biggest advocates for ALS research that I have ever met. His mother and I had a really strong connection because my own son has a traumatic brain injury, and I was in the middle of caring for him in the earlier years of his injury when we met. She was full of encouragement for me and truly got me through a rough time. Seeing her strength and advocacy for her son was inspiring to say the least!
Silvia Fuentevilla: Some positive moments with sites are when they trust what Antidote does, when they find value in the quality of referrals we send to their sites, when we exceed their expectations, and when they tell us that they enjoy working with us.
Lauren Schill: Running the site follow-up team here at Antidote, I speak most often with contacts at clinical trial sites. We receive feedback throughout the course of a study and reach out when wrapping up our services for final feedback, both good and bad. We often receive comments regarding how well our precision recruitment matches potential participants to the right trials, and how well those patients do in the screening process.
What does patient-centricity mean to you?
Lindsey Wahlstrom-Edwards: To me, patient-centricity means we stop talking about the "patient" and start focusing on the "human." At the end of the day, no one wants to be defined by a diagnosis. People want to thrive while living with a condition. By putting the human into what we do, we can create more effective and impactful programs.
Juline Hobbs: One of my jobs here at Antidote as Senior Manager of Operations and Patient Experience is to find inventive ways of making the process of screening easier on patients. It's all about keeping the patients at the core: Listening to what they say, allowing them to comment on our process, and making adjustments where we need to in order to accommodate their needs. Patients know their conditions best — they live with them day in and day out! Something that we do here at Antidote that I am most proud of is having people living with the condition review and comment on our materials before we start recruiting for trials. Their suggestions are helpful and insightful, and it is wonderful to hear what the patients have to say!
Silvia Fuentevilla: To me, patient-centricity means speaking to patients and their families to understand their medical condition, their experience, and their needs. That should be considered when designing protocols and planning recruitment campaigns for clinical trials.
Lauren Schill: We have to be sure that every decision we make is made with patients first in mind. If a decision isn't going to benefit participants, we don't implement it.
Why should patients consider participating in clinical trials?
Lindsey Wahlstrom-Edwards: Medical research studies allow individuals to access care from the medical "greats" while also contributing to science. You can take what was likely one of the worst moments of your life and turn it into a meaningful contribution for the betterment of humanity. And, at the end of the day, the first person cured of any health condition will be in a clinical trial.
Juline Hobbs: Participating in clinical trials allows us to find better treatment options for ourselves, loved ones, and future generations. Working collectively towards better treatment options is rewarding and you feel like you are able to potentially change the future for others!
Silvia Fuentevilla: For many reasons! By participating in a clinical trial, we are contributing to research that could bring new treatments to patients that need them. It can be you, me, or your loved ones. We also help in the prevention, diagnosis, and cure of a disease.
Lauren Schill: Clinical trials offer the opportunity to have a treatment that is potentially better than the standard of care. Participating in trials also allows people to contribute to science and help others in the future as doctors and scientists find new ways to treat conditions.
What kinds of innovation do you hope to see in the clinical trials landscape in the future?
Lindsey Wahlstrom-Edwards: I'm very excited by hybrid trials. I like the idea of giving individuals a choice to participate in research at a site or virtually. I also think that type of trial design will go a long way to addressing the geographic disparities – especially the urban/rural divide – in access to clinical trial opportunities.
Juline Hobbs: I'm excited to see where technology is going to lead us! Telemedicine has catapulted during these recent times. This can allow patients to participate in clinical trials right from their homes by connecting their wearable devices, smartphones, and tablets, allowing researchers to capture data and connect with patients for their feedback.
Silvia Fuentevilla: I hope to see virtual trials, fewer study visits, more technology platforms, and remote technology for sites and patients.
Lauren Schill: I hope to see clinical trials become more widely available through technology. As mobile medical services, technology, and communication methods advance, we will be able to reach patients in more remote locations, and streamline clinical trial visits. My hope is that with these advances, we will be able to reach even more participants and advance medical breakthroughs quicker.
Bringing the best experience to the diverse world of patients is at the heart of what we do. How do you feel your roles contribute to that mindset?
Lindsey Wahlstrom-Edwards: What I love most about our model is that we do not claim to be experts in any health condition. Rather, we bring best-in-class technology to support the incredible work patient advocacy organizations do on behalf of the individuals they serve. There is no one-size-fits-all solution and our approach allows us to tailor our work to what will be most effective for a given community.
Juline Hobbs: The patients that we serve come from such a wide variety of backgrounds. Some patients are very knowledgeable about their condition and others are just starting their journey. In my role, I try to keep that in mind when talking to patients through the pre-screening process. I try to be ready to answer questions that patients might have about the trial or even about where to go for support from our extensive network of partners.
Silvia Fuentevilla: My role contributes by ensuring that all participants have a smooth journey when referred to a site so that they have a good clinical trial experience.
Lauren Schill: As someone who has been on the clinical trial site side of the medical research industry, I feel that I bring an empathetic point of view to the participants we work with, as well as the clinical trial site contacts that we collaborate with. I've experienced firsthand the whirlwind that is coordinating clinical trials, and have seen the positive impact that these trials have on patients and their families. I'm so thankful to continue contributing to groundbreaking medical research through a company that shares my passion for it.
Today, we celebrate clinical trials and all those who take part. Clinical trials need volunteers. New medical interventions can't move forward without your help. Ready to start searching for a trial in your area? Click below to answer a few questions and get started.