10 Clinical Trial Recruitment Strategies That Work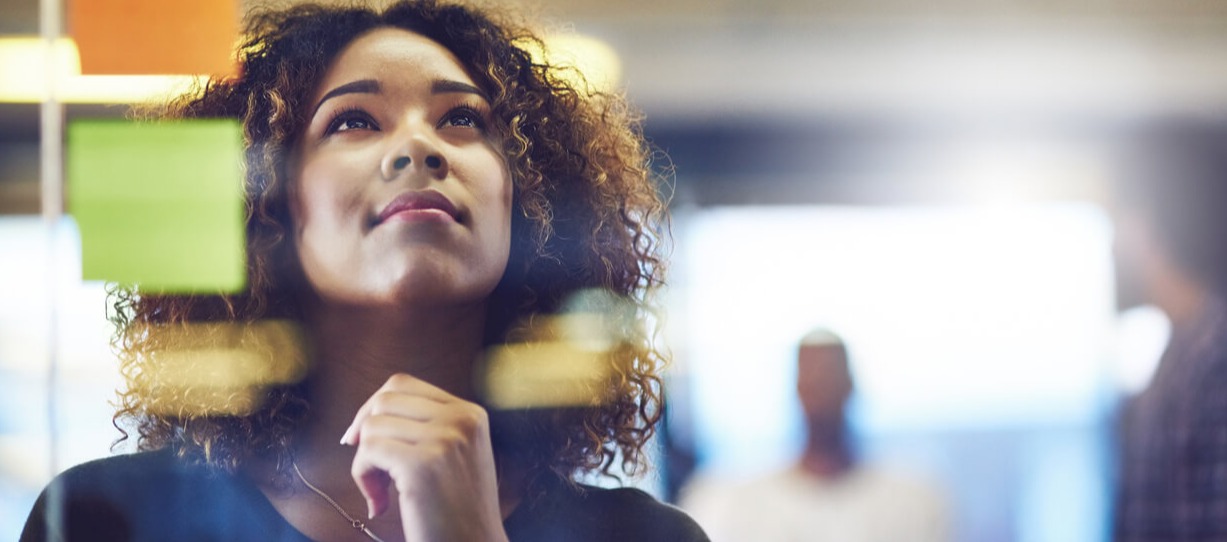 The best clinical trial recruitment strategies start by considering the patient perspective. From there, it helps to get creative. A reliable clinical trial patient recruitment plan incorporates a range of outreach methods designed to reach patients quickly and efficiently while providing them with the information they need to take the next step.
For both patients and researchers, time is critical when it comes to clinical research. Patients can't wait for better treatment options, and running a trial costs up $37,000 per day by some estimates. The below clinical trial recruitment strategies are designed to help sponsors meet their goals on or ahead of schedule and connect patients with opportunities that are right for them.
1. Understand what matters most to patients before starting recruitment.
Ideally, the patient voice is included in a study's design to ensure that it meets real patient needs If a trial doesn't include endpoints that are meaningful to patients, it makes recruitment even more challenging.
At Antidote, we wanted to learn more about patient preference toward different types of clinical trials:
observational
Interventional
trials for a treatment addressing side effects
trials for entirely new medications.
We analyzed responses from 4,000 patients by condition area and shared our findings in a whitepaper (results below).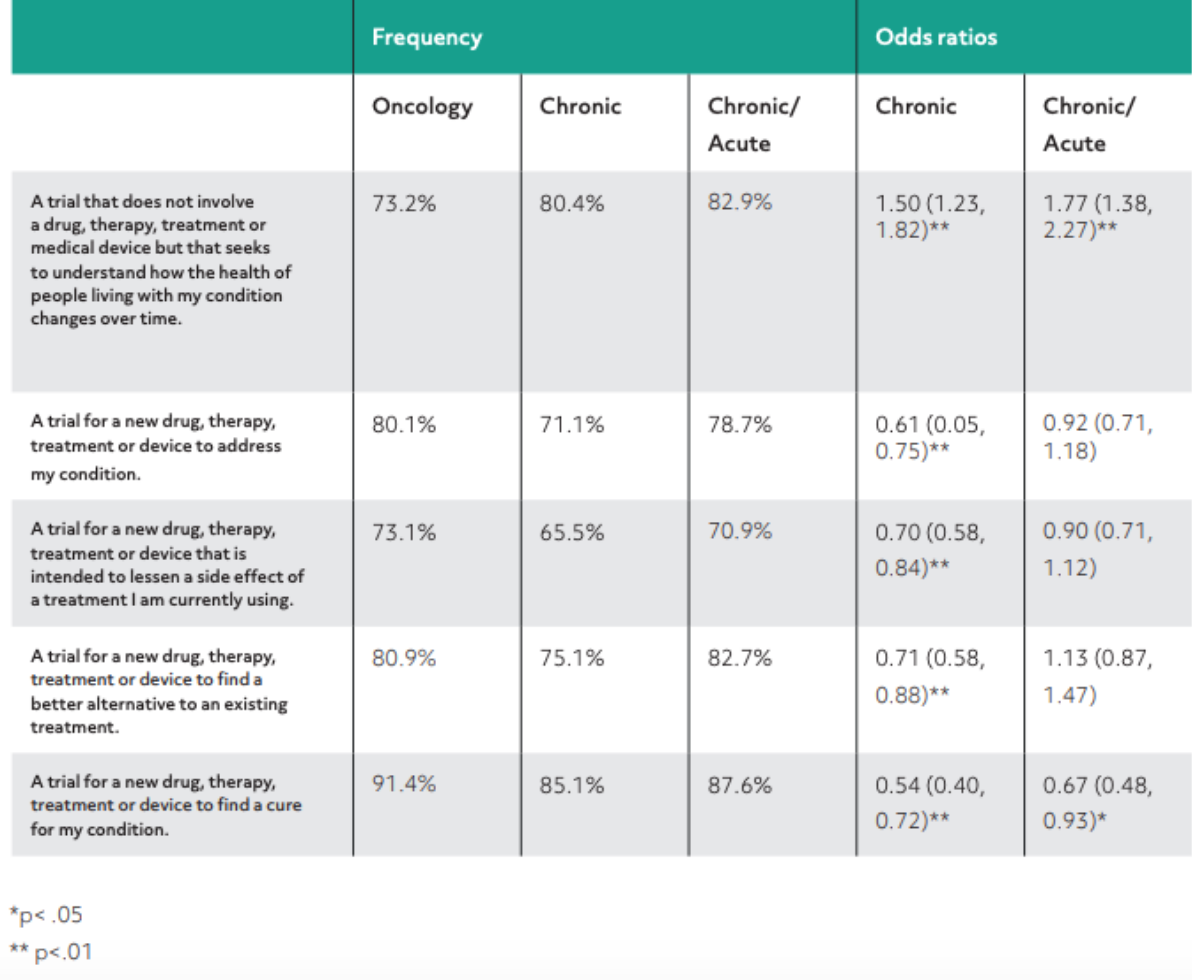 Our findings have implications for how different kinds of clinical trials are marketed to patients, and suggest questions to ask during focus groups with patients before a trial launches. For example, patients living with chronic conditions were less likely than oncology patients or chronic/acute patients to participate in a trial for a new drug or therapy. It's important for these trials, then, to highlight the benefits of taking part and how the investigational treatment may be an improvement to existing options. Because it can take time to find the right treatment for chronic conditions, such as lupus for example, patients may be less interested in taking the risk of trying something new.
If you're working with a patient recruitment company, ask about how they differentiate their outreach approaches depending on the trial condition area. A strategic agency will take these patient preferences in mind when creating outreach materials and selecting their targeting.
2. Share your trial with local health care providers.
Another patient-centric approach to recruitment is to connect with primary care providers and specialists. According to a survey from CISCRP, 64% of patients would prefer to hear about clinical trial opportunities from their healthcare providers. Consider putting together outreach materials designed specifically for doctors sharing information about your trial. If your site has relationships with local hospitals or other healthcare providers in the area, use your network to spread the word about your trial. In-person meetings tend to be the best way to share trial information with physicians. You can also reach patients at point-of-care through agencies that provide advertising in doctor's offices.
3. Connect with nonprofit partners and patient advocates.
Working with local nonprofit partners and others who engage with patient communities can help you reach patients in your area who may not be in your site's database already. Patients are also more likely to trust information about trials they receive through nonprofits organizations compared with ads, our research has found (see chart below).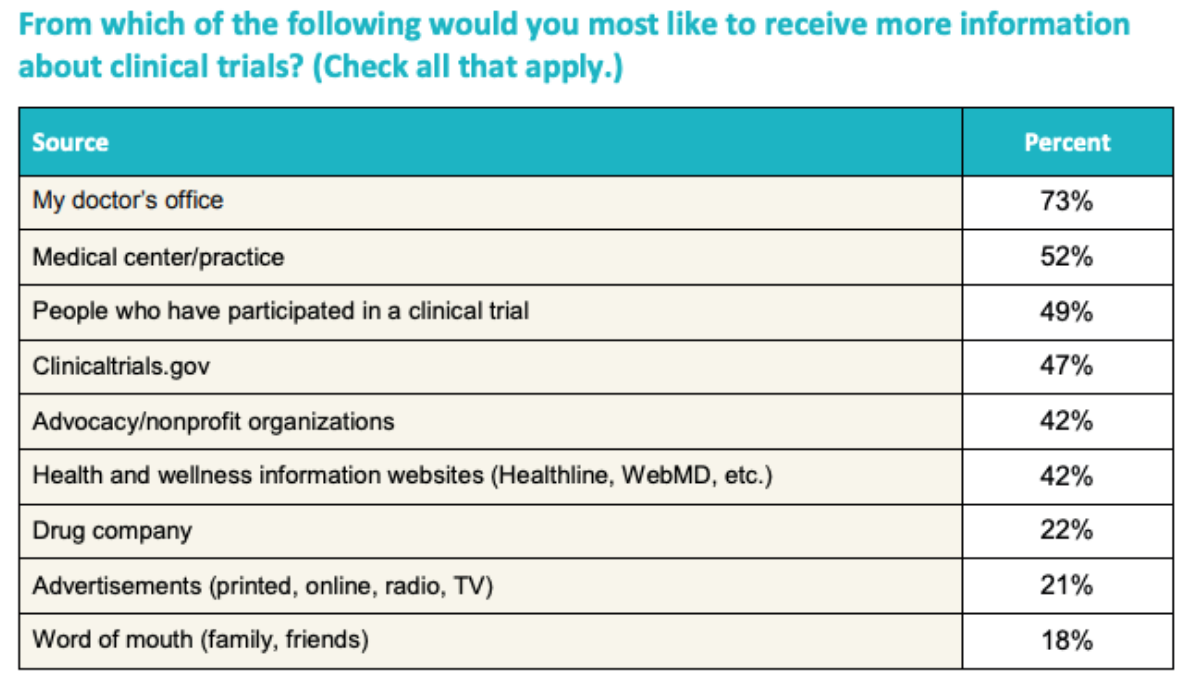 The cost of working with partners varies: some organizations may be interested in promoting your trial for a fee, while others may offer free or low-cost promotions. For example, you may be able to join a local health fair or other event to promote your trial. Or, a nonprofit organization may be interested in promoting your trial to their email list for a fee.
4. Work with a patient-centric clinical trial recruitment company that takes a diverse approach to outreach.
Of course, the definition of the buzzword "patient centric" can vary from person to person, but when evaluating clinical trial recruitment companies, have questions prepared that get to the heart of the company's relationship with patients. Do outreach materials they've created in the past reflect the patient population? Do they respond to questions via Facebook or email from patients about the trial, and how responsive are they? Does the vendor have relationships with patient advocates or other groups? Understanding a recruitment company's relationship with patients can help you ascertain whether their methods will connect you with engaged patients.
5. Run digital recruitment campaigns that meet patients where they are.
Digital advertising offers trial teams the opportunity to reach patients beyond site databases, and use messaging that best connects with those who are interested. Interest and keyword targeting allows marketers to find patients who are actively searching for treatment options for their conditions. Digital advertising can also give patients time to consider taking part and send reminders their way. While a research site may only send one email and a reminder to their database about a trial opportunity, through cookie tracking, patients who visit a landing page about your trial and don't take an action can be re-targeted and have another opportunity to sign up.
6. Conduct outreach beyond the site level.
Even with careful site selection, it's still unlikely that sites alone will be able to enroll all of the patients you need from their existing databases. On average, 37% of sites under enroll and 11% fail to enroll a single patient into a trial. For faster results, it's important to launch a diverse patient recruitment approach from the start. This can include working with a patient recruitment company, running digital advertising, connecting with patient advocacy groups, and other efforts.
7. Contact patients who already match inclusion and exclusion criteria whenever possible.
Reaching patients who aren't qualified for your trial isn't just costly – it can be disheartening for patients, as well. Unfortunately, when patients are told they don't qualify for a specific clinical trial, they rarely search for a new trial, according to research from CISCRP. One way to help improve patient eligibility is to work with services that can screen for challenging inclusion and exclusion criteria in advance. For example, lab test and Electronic Health Record (EHR) companies have access to blood test information and other data patients are unlikely to know off-hand. Reaching out to patients who already meet these requirements can help improve the patient experience and save time at the site level.
8. Screen for multiple trials at a time.
If you're running multiple trials for the same condition area, one way to save time – and money – is to screen for all of the trials at once. This can be done by working with a patient recruitment company that creates online pre-screeners and can direct patients based on their location and responses to questions related to inclusion and exclusion criteria. Screening for multiple trials at once can help more interested patients connect with research opportunities while speeding up the recruitment process.
9. Use patient follow-up services.
While clinical trials are top-of-mind for those running recruitment, for patients, your trial may be just one more email in their inboxes and consideration in their busy lives. Automated follow-up emails or text messages can remind patients to take the next step. Some patient recruitment companies also offer follow-up services at the site level, so you can stay on top of the progress patients are making and flag sites that are slow to respond. This type of follow up can help lower costs by reducing the number of patients who start the process and don't follow through, and save time by proactively reminding patients and sites to take the next step.
10. Consider where patient retention fits in, too.
Trial teams tend to see patient recruitment and retention as separate projects, but they can also be considered in tandem. For example, engagement through electronic patient-reported outcome tools (ePRO) can help patients feel more committed to participating in a trial. Home visits to replace trips to a site or the opportunity to talk with doctors remotely can also help improve retention. Because these features can also help make it easier to participate in a trial, it can make sense to highlight them in outreach materials promoting your trial, as well.
An Antidote, we use a diverse approach we call precision recruitment to quickly identify eligible patients and beat timelines. Learn more about our methods by downloading our case studies.